A physician, an engineer and a business person walk into a bar.
If they were fellows of the University of Missouri's Biodesign and Innovation Program, a lot more might happen than a punchline. Perhaps the trio would end up designing an ergonomic bar stool for barflys, then market it to businesses. 
The University of Missouri Biodesign and Innovation Program (MUBIP) brings together three individuals charged with identifying a health care need, developing technology to resolve the need and forming a plan to put the technology on the market. Fellows gain hands-on experience in innovation, invention and business creation.
"We find unmet needs and try to solve them," said Roger de la Torre, director of MUBIP and adviser to the fellows. "Once we find a need, we want to innovate and develop technology to meet the need."
At the Day of Biodesign event June 26 in Reynolds Alumni Center, the three fellows presented their group projects. The fellows were:
business person Ellie Koehly, who earned a biological sciences degree in 2012 and a master's in business administration at MU in 2014
engineer Jaya Ghosh, who earned a doctorate in biological engineering at MU in 2013
Dr. Yaw Sarpong, currently in a five-year residency in neurosurgery at MU
Adam Rau, who earned a degree in business administration in 2005 and a master's in business administration in 2013 at MU, is a "super fellow," a second-year participant focused on commercialization and product development.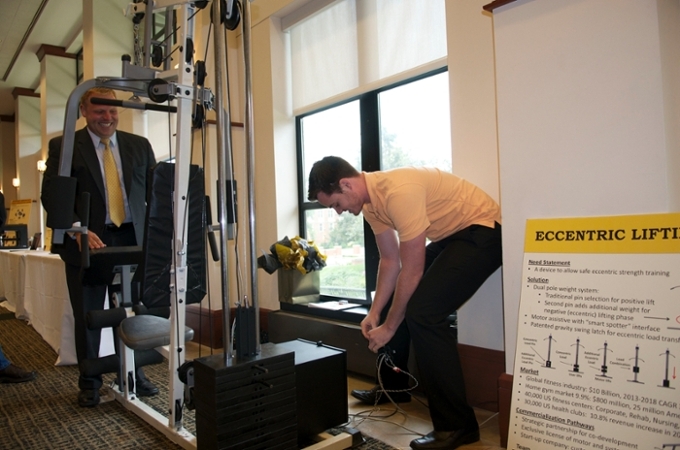 Adam Rau, left, a second-year fellow in the program, is helped by graduate student Nick Smith during a demonstration of the weight machine prototype at the Day of Biodesign event June 26. Photo by Mark Barna.
Meet the Projects
MUBIP began with collaboration between the Department of Surgery and the College of Engineering. It has grown to include many other units, such as the College of Veterinary Medicine and various departments in MU Health Care. The program offers paid one-year fellowships from July 1 to June 30. The physician fellowship requires at least two years of residency. The other two fellowships require at least a master's. Twenty-four fellows have taken part since the program's inception in 2007.
Among universities, only Stanford has a similar program founded prior to MU's.
For the first four months, the fellows interview and observe scientists and physicians to pinpoint a need. "We have several eyes looking at the same problem and coming up with a conclusion," said de la Torre, chief of general surgery at the University of Missouri Health System.
One of the projects presented involved developing a hand-held device for physical therapists to use on soft-tissue injuries. Another project was creating an app to tell patients when to take pills and the proper dosage. The third was developing a surgical instrument used in hernia operations.
A medical company has already shown interest in securing an exclusive licensing agreement for the soft-tissue device, Koehly said. And talks are underway with two medical device companies interested in the hernia surgery tool.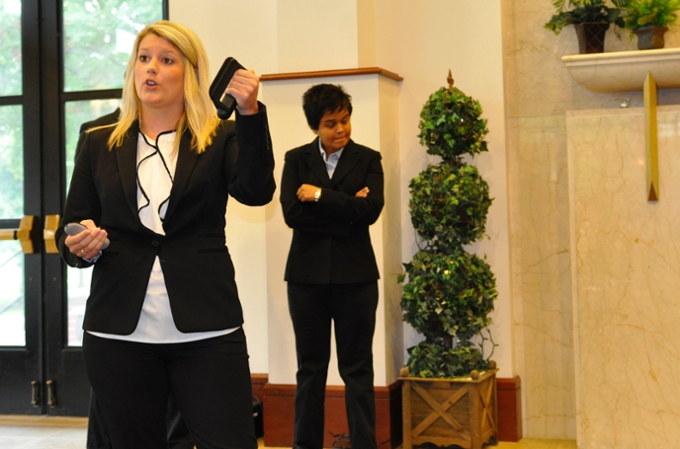 Exercise Machine
In the exercise and physical therapy industries, it is well known that, for building strength, the act of lowering weights, which lengthens muscle contraction, is as important as lifting the weights. Optimally, the weight being lowered should be greater than the weight being lifted; if you lift 40 pounds in a bar curl, you should lower, say, 60 pounds. But that is nearly impossible without a spotter adding and subtracting weights.
Enter the device created and developed by Rau and his team: a machine that automatically adds extra weight during weight lowering. Eventually the machine will be marketed to physical therapists, public gyms and the general public, Rau said.
Brett Hayes, director of physical therapy at MU Health Care, is enthusiastic about the prototype and hopes to test it after further development. "We know that a lot of our best strength gains and improvements on our patients are made by lengthening muscle contraction," Hayes said. "A machine like this has great application to what we are trying to do."