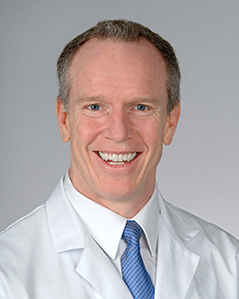 A leading cancer surgeon has been appointed chair of the MU School of Medicine Hugh E. Stephenson Jr., M.D., Department of Surgery and director of MU's Ellis Fischel Cancer Center. Kevin Staveley-O'Carroll, who will also hold the endowed title of Hugh E. Stephenson Jr., M.D., Chair of Surgery, begins his appointment Sept. 1.
Staveley-O'Carroll is currently at the Medical University of South Carolina. He is chief of oncologic and endocrine surgery; medical director of Hollings Cancer Center; Alice Ruth Reeves Folk Endowed Chair of Clinical Oncology; and a professor of surgery, microbiology and immunology. Prior to that, he served 13 years at the Penn State University in Hershey, where he was chief of surgical oncology; director of the program for liver, pancreas and foregut tumors; director of the hepatobiliary fellowship program; and a professor of surgery, medicine, immunology and microbiology.
"Recruiting physician-scientists of Dr. Staveley-O'Carroll's caliber signifies the University of Missouri's firm commitment to advancing medical care, education and research," said Patrick "Patrice" Delafontaine, M.D., dean of MU's medical school. "Dr. Staveley-O'Carroll will make significant contributions to the University of Missouri's stature as a leading academic medical center and research-intensive university."
Staveley-O'Carroll's research and mentoring activities have been funded by the National Institutes of Health and American Cancer Society, as well as foundations, universities and industry. His active involvement with national and international organizations includes serving as president of the Association for Academic Surgery — the largest organization of academic surgeons in the world — and leading the Society of Clinical Surgery's membership committee. Staveley-O'Carroll is author or coauthor of more than 90 peer-reviewed articles and book chapters.
After receiving a medical degree from the University of Oklahoma College of Medicine, Staveley-O'Carroll completed training in surgery and surgical oncology at the Johns Hopkins University in Baltimore. He also received a doctorate in pharmacology and molecular biology from Johns Hopkins.
"I am honored to lead MU's surgery department and cancer center," Staveley-O'Carroll said. "I look forward to using MU's outstanding array of resources and talent to further advance medical care, education and research."