The University of Missouri held a memoriam April 3 for 12 students who died over the past year.
More than 275 people heard administrators and student leaders speak in Memorial Union's Stotler Lounge about the short but meaningful lives of the students, whose names were added to the union's Student Memorial Plaque.
Tempering the grief and sorrow was the recognition of the positive influences the students had on other people's lives. Payton Head, president of the Missouri Students Association, and Hallie Thompson, president of the Graduate Professional Council, spoke of the passions, accomplishments and, in some cases, endearing quirks of the departed.
Chancellor R. Bowen Loftin and Cathy Scroggs, vice chancellor for student affairs, made remarks. 
Loftin said that, though the university has more than 35,000 students, it retains the feel and closeness of a small community. The loss of the 12 is deeply felt. 
"Don't forget MU is a family," Loftin said.
Campus flags were at half-mast all day. The bells of Switzler Hall rang at 4 p.m. Memorial Union's exterior lights remained off at dusk. 
The additional information below on the students is from the remarks by Head and Thompson.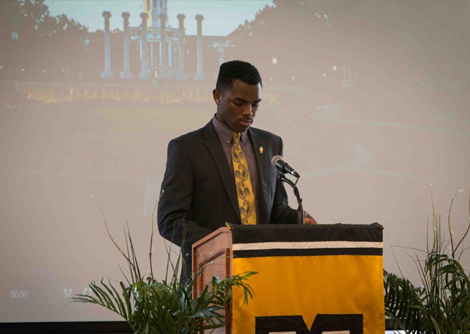 Trent Bartolomucci, Trulaske College of Business, New Lenox, Illinois. Trent loved  the outdoors, especially fishing. He called Mizzou "my college," a place he could love, learn and laugh.
David Bland, CAFNR, Kirkwood, Missouri. David was an avid protector and rescuer of animals.
Cale Boedeker, CAFNR, Malta Bend, Missouri. Cale loved country music and was a strong leader and public speaker.
Ryan Candice, Trulaske College of Business, Ballwin, Missouri. Ryan loved spending time at The Lake of the Ozarks and working in his father's St. Louis restaurant.
Abbey Felton, College of Arts and Science, Rogersville, Missouri. Abbey owned a Jack Russell terrier and had an eclectic taste in music, from Queens of Stone Age to Eric Clapton.
Chanel Goodwin-Watkins, CAFNR, Columbia, Missouri. A wife and a mother, Chanel grew up in Ohio and loved Cincinnati sports teams.
Jack Lipp, College of Business, Liberty, Illinois. Jack played basketball, golf and regularly hit the ski slopes. His favorite song was Jay Z's "Forever Young."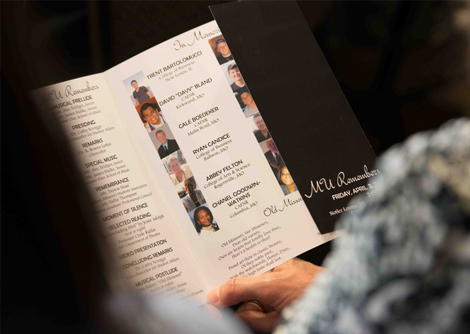 Christopher Nicklow, CAFNR, Medina, Minnesota. Christopher enjoyed Greek food and sushi. He was an avid fisherman in Canada and Minnesota, his home state.
Cameron Perkins, College of Business, Creve Coeur, Missouri. Cameron had a loud laugh and contagious smile. "He was the brother always by your side and the friend who stood by you," Head said.
Ty Rudder, College of Arts and Science, Columbia, Missouri. Ty loved his wife, taking photographs and collecting first-edition books.
Gabriel Small, CAFNR, Columbia, Missouri. A military veteran, Gabriel recently learned to play the violin. He greeted people with a smile, a handshake or a hug, and sometimes all three.
Shannon K. Tatum, College of Arts and Science, Ripley, Mississippi. "If someone said let's go, Shannon would be there at a moment's notice," Head said. Though Shannon used a wheel chair to get around, "she lived as though she were running."
Postscript: Paul Miltenberger, an MU sophomore business major, died April 5 in Dallas in a hit and run accident while walking near the campus of the Southern Methodist University, Dallas police said. His name will appear on the 2016 Student Memorial Plaque.