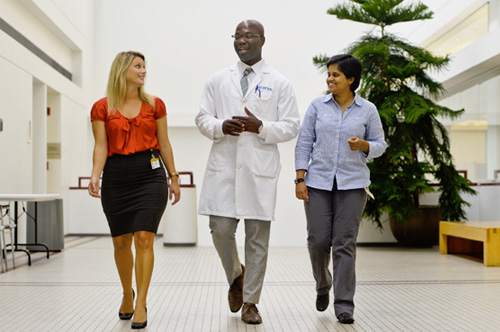 A physician, an engineer and a business person walk into a bar.
If they were fellows of the University of Missouri's Biodesign and Innovation Program, a lot more might happen than a punchline. Perhaps the trio would end up designing an ergonomic bar stool for barflys, then market it to businesses.
The University of Missouri Biodesign and Innovation Program (MUBIP) brings together three individuals charged with identifying a health care need, developing technology to resolve the need and forming a plan to put the technology on the market. Fellows gain hands-on experience in innovation, invention and business creation.
"We find unmet needs and try to solve them," said Roger de la Torre, director of MUBIP and adviser to the fellows. "Once we find a need, we want to innovate and develop technology to meet the need."
At the Day of Biodesign event June 26 in Reynolds Alumni Center, the three fellows presented their group projects. The fellows were:
business person Ellie Koehly, who earned a biological sciences degree in 2012 and a master's in business administration at MU in 2014 
engineer Jaya Ghosh, who earned a doctorate in biological engineering at MU in 2013
Dr. Yaw Sarpong, currently in a five-year residency in neurosurgery at MU
Adam Rau, who earned a degree in business administration in 2005 and a master's in business administration in 2013 at MU, is a "super fellow," a second-year participant focused on commercialization and product development.
July 9, 2015 Issue