One year ago, Pat Jones pledged $1.6 million to the University of Missouri to establish an endowment for a youth program and faculty position in conservation. On April 22, the 45th anniversary of Earth Day, the College of Agriculture, Food and Natural Resources celebrated Jones and her generosity.
The endowment created the Prairie Fork Youth Conservation Education program and a faculty position in CAFNR's School of Natural Resources. Once hired, the faculty member will research ways to educate young people on conservation.
At the intimate gathering in the Agriculture Building, Tom Payne, CAFNR vice chancellor and dean, thanked Jones for her hard work and commitment to conservation. Jones, who is 88 years old and a 1950 MU graduate with a degree in soil science, said she gave the endowment because young people need to learn about and respect nature.
Jones and her late husband, Edward, have a history of giving to Missouri conservation. They were leaders in establishing the statewide KATY Trail. Eighteen years ago and after Edward's death, Jones donated their sprawling Williamsburg, Missouri, farm to the Missouri Conservation Commission to establish the Prairie Fork Conservation Area.
Over the past three years, 12,000 people have visited Prairie Fork, said Eric Kurzejeski, a program director in the School of Natural Resources who spent 30 years with the state conservation department.
Jones also set up the Prairie Fork Trust to provide oversight and additional funding for youth education; the School of Natural Resources and the Missouri Department of Conservation administer the fund.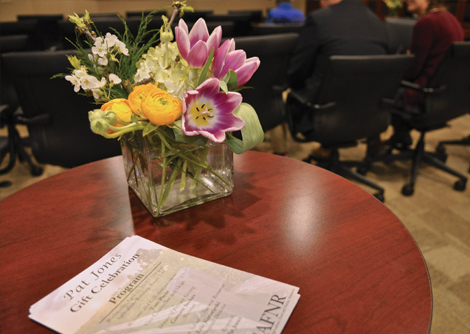 In 2014, CAFNR awarded Jones its highest honor — the Frederick B. Mumford Award for Distinguished Service — for her commitment to conservation education.
Provost Garnett Stokes said at the event that the endowment would help MU explore best practices in youth conservation education. "We want to make sure we have an Earth Day 100 years from now, 200 years from now," Stokes said.
Payne and Brent McCauley, a CAFNR advancement officer, presented Jones with a print of a photograph by nature photographer Richard Spener of the Irish Wilderness Area in Oregon County, Missouri.
Payne asked if Jones had anything more to say.
"Life is not very long, so enjoy every minute of it," she said with gusto. "Have something you want to do, some goal for tomorrow or the next day. Live well and enjoy it."