After 18 months of planning, packing, moving, unpacking and gallery organization, the Museum of Art and Archaeology will celebrate its grand opening Sunday at Mizzou North. Improved art storage facilities and spacious galleries have administrators giddy about the museum's possibilities.
"I'm excited to welcome visitors to the new galleries," said Alex Barker, director of the museum. "The public display of art is a key part of our museum mission. For the past year and a half, that has been missing."
Mizzou North, at 115 Business Loop 70 West, is the former site of the Ellis Fischel Cancer Center (which opened a new facility at University Hospital in February 2013). The art and archaeology museum is on the second floor; in coming months, the Museum of Anthropology also will open on the second floor.
For years, the art and archaeology museum was in Pickard Hall and the anthropology museum was in Swallow Hall. But Swallow needed renovation and Pickard required decommissioning. The museums had to find a new home.
On Sept. 30, 2013, the Museum of Art and Archaeology closed and began its relocation to Mizzou North. More than 16,000 artworks and artifacts had to be packed and moved. Mizzou North space had to be renovated to make room for the collections.
The Cast Gallery opened Feb. 7, 2014, on Mizzou North's first floor. The first floor has higher ceilings than the second floor, enabling accommodation of the gallery's towering plaster casts of ancient Greek and Roman gods and goddesses.
Construction of the second-floor galleries was finished in November 2014. But setting up the displays had to wait because the fumes of fresh paint and other chemicals used in construction could have damaged the collections, Barker said.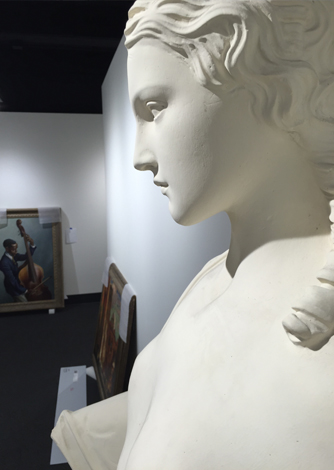 The storage areas are larger and of higher quality than the former ones and are fitted with state-of-the-art climate control regulators. The galleries display 785 artworks and artifacts, from antiquity relics to examples of modern art.
The galleries show off the works in ways that weren't possible at Pickard. Details of ancient medallions, for instance, are clearly visible because of lighting improvements and positioning of the Plexiglas encasements. Raking light allows the surface details to pop on oil paintings.
"I've been surprised at how many works look different in their new surroundings," Barker said, "and how many details are visible in familiar works that hadn't been apparent before."
Wine, punch, hors d'oeuvres and cake will be available for patrons at the grand opening 2–6 p.m. Ribbon cutting is scheduled for 3 p.m.
Following Sunday's opening, the museum will resume normal operating hours: 9 a.m.–4 p.m. Tuesday–Friday and noon–4 p.m. on weekends. Admission is free.
Upcoming events at the Museum of Art and Archaeology:
• Film Series: Russian Ark (2002)
7 p.m., today
707 Mizzou North, 115 Business Loop 70W
• Kids Series: Monet
3:30–5:30 p.m., May 7
115 Mizzou North
• Film Series: The Best Offer (La Migliore Offerta, 2013)
7 p.m., May 21
707 Mizzou North
• Kids Series: World of Art: Money Money Money
3:30–5:30 p.m., June 18
Mizzou North