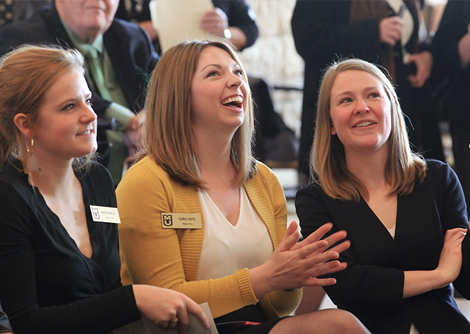 A few weeks ago, Erin Ehlers and a dozen other MizzouThon students spent more than two hours visiting a 9-year-old boy with brittle bone disease. They sat in his house making crafts, chitchatted with him up and kept him at the center of attention. Before they left, he said he had something he wanted to tell them.
"I love you guys," he said.
"It's little moments like that that make it all worth it," says Ehlers, who helps organize Mizzou's largest student-run fundraiser, which benefits MU's Women's and Children's Hospital — like the mom whose daughter is experiencing seizures who posted to Facebook that "MizzouThon love heals all owies."
MizzouThon launched its annual 13.1-hour dance marathon to support Women's and Children's Hospital in 2008, when they raised $13,500. By 2014, that total grew to $176,291. The money has supported a music therapist, a telehealth program that allows parents to see their hospitalized children over a video feed and a tutor to help hospitalized children keep up with their classwork.
On Feb. 12, the students pledged $1 million over the next five years to help fund the recent $3.1 renovation and expansion of the Neonatal Intensive Care Unit, soon to be renamed for MizzouThon. The unit features 20 single-patient rooms, a room where parents can stay overnight with their newborn, and a portable digital X-ray machine and developer.
"I've been talking lately about what makes Mizzou special, and that's our service," Chancellor R. Bowen Loftin said during the gift announcement, looking at the students seated in the front row. "Your energies are devoted to helping others … to seeing other people smile."
The next dance marathon is March 14. See mizzouthon.org for details.
Watch a video of the 2014 dance marathon here.
— Erik Potter
This article first appeared at MIZZOU magazine online.