Mizzou employees concerned about a student's mental health don't have to search through a Rolodex, the Yellow Pages or online websites for direction. Employees need only call Mizzou Cares Crisis Resource Line at (573) 882-3970.
The announcement was made Jan. 30 at a Mizzou Cares Committeeevent in Memorial Union that featured panelists Cathy Scroggs, vice chancellor for student affairs; Brenda Selman, the university registrar; and Linda Bennett, interim Title IX coordinator. Panelists answered questions about mandated reporting and FERPA. About 160 faculty and staff attended the event in the Mark Twain Ballroom.
Mizzou Cares Crisis Resource Line is a phone tree offering behavioral prompts that direct callers to resource information on what to do if a student or fellow employee appears to be in mental distress. Callers can connect with the Title IX office, At-Risk Behaviors Committee, Student Health Center, Counseling Center, and Relationship and Sexual Violence Prevention Center.
The resource line was suggested by faculty wanting a simple and fast way to get direction on helping students in distress, Christy Hutton, Counseling Center outreach and communications coordinator, said in an interview.
The one-stop employee phone number comes on the heels of the Counseling Center's launch Jan. 20 of an after-hours service that enables students to call one number — the Counseling Center at (573) 882-6601  — 24/7 for immediate assistance.
The phone tree and Counseling Center service do not replace local and national hotlines, emergency agencies or 911. Rather, they offer MU additional tools to serve students, Hutton said. 
Don't Decide, Just Report
Since April 2014, University of Missouri System employees not excluded by legal obligation to maintain confidentiality are mandated reporters of potential instances of sexual assault and harassment on the four campuses. At the Jan. 30 event, panelists explained the initial process once the office receives a report.
The information is given to Title IX investigator Salama Gallimore, who contacts the complainant to offer resources, accommodations and information on his or her rights.
"The initial focus is always on making sure the student feels safe, is aware of resources and can be successful academically at Mizzou," Gallimore said in an interview.
The complainant has the choice of whether to speak to the office and accept or decline counseling and decides whether to file a police report, Bennett said. The accused is supported, as well. However, if after numerous requests the accused fails to cooperate with the office, such as by not meeting with the investigator, the accused risks being blocked — typically called a hold — from next semester's registration, Selman said. The hold will not appear on the person's transcript.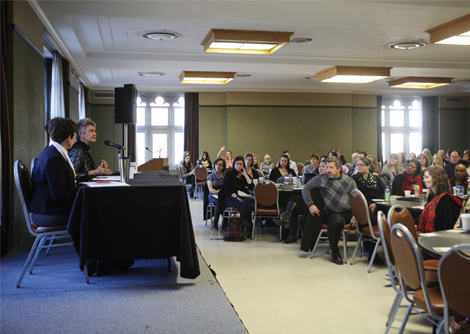 "You will only see a hold when a person doesn't do what they were supposed to do," Scroggs said.
Many times, employees hear information of an incident that is hearsay with few details. They wonder if they should share the information. Bennett said they should file a report with the Title IX office.
"When do you decide to report?" Bennett asked rhetorically. "You don't decide. You just report." Employees share information, and the office investigates.
Benefits of Mandated Reporting
One advantage to mandated reporting is that patterns emerge that can improve campus safety. Perhaps a name keeps coming up amid the murky facts of several cases. "This way we can see the pattern of an accused," Scroggs said. Without mandated reporting, a serial offender with no police record might go unnoticed.
Second, mandated reporting avoids the delay in fact-finding that happens when cases go unreported for months or years. People tend to remember what happened more clearly when they talk about it sooner than later, Bennett said.
"It is a change of culture, a change of who we are and how we interact with one another," said Bennett, responding to an employee's concern that mandated reporting might constrict open communication with a student. "It is building a different kind of trust: 'I am here to report because I care about you.' "
Though the conversation focused on reporting, the Title IX office does more than investigate cases and decide further action. It also offers training, education and prevention methods, panelists said.
More Information
At-Risk Behaviors Committee, (573) 882-6776
Counseling Center: 24/7 assistance, (573) 882-6601  
Mizzou Cares Crisis Resource Line: (573) 882-3970
Relationship and Sexual Violence Prevention Center