By helping people in greater Columbia challenged by homelessness, poverty, food insecurity and an unstable household, everyone in the region benefits. Those receiving aid can become productive in society and help grow the economy.
The Community Impact model aspires to teach people and help them discover how they can be successful. The program focuses on youth to break the cycle of poverty.
The MU community continues to give generously to the MU/UM United Way Campaign. As of Oct. 28, nearly $400,000 has been raised toward the goal of $600,000. Online donations end Nov. 21, though donations will be accepted through year's end.
What's more, a number of MU faculty have acted as consultants on the Community Impact model.
Chancellor R. Bowen Loftin, a campaign honorary chair, has participated in several United Way events, including his and wife Karin's hosting of a fundraiser during summer. An effort to encourage more Leadership Circle givers (who contribute more than $1,000) has increased pledges, and giving is up among employees at University Hospital and Clinics and the School of Medicine.
"Awareness is really the key for the United Way Campaign," said Andrew Grinch, a campaign tri-chair and associate assistant director of external operations and content at Mizzou Athletics. "We work very hard with 'chairs' in the various departments, colleges and schools to raise awareness of the campaign and all the good that the Heart of Missouri United Way does for the community."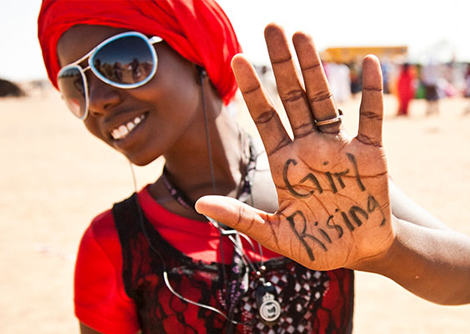 On Nov. 3, the film Girl Rising, an award-winning documentary about young women overcoming social challenges, will be shown at 6:30 p.m. at the Missouri Theatre. The College of Education collaborated with Heart of Missouri to bring the film to Columbia. Tickets are $10. All proceeds go to the MU/UM campaign.
Challenges Remain
But even as people open up their hearts, minds and pocketbooks, more is needed. The programs funded by United Way need $4.2 million to function optimally, said Tim Rich, executive director of Heart of Missouri United Way. So far, $1.3 million has been donated. Last year, $3 million and some change were given.
Closer to home, MU administrators set a goal of 25 percent participation from employees. As of Oct. 28, nearly 14 percent have taken part. Last year, MU missed its $600,000 goal by $75,000.
Betsy Rodriguez, lead tri-chair of the MU/UM campaign and the University of Missouri System vice president of human resources, marveled at the variations in departmental giving within divisions, colleges and schools. Some departments don't participate at all, while others have 40 percent participation, Rodriguez said.
"That tells me that someone in the [giving] departments is getting out the message, and it's resonating with faculty and staff," Rodriguez said. "We rely on on-the-ground volunteers in each department. Some are enthusiastic, and others are either too busy or less interested."
Faculty Expertise Contributes
MU faculty have been lending their expertise to Community Impact. Aaron Thompson, assistant professor in the School of Social Work, and social work graduate students evaluated the application process United Way uses to choose the health and human service agencies who receive funding, Rich said. After evaluating 19 proposals this year, the MU team found that only two agencies clearly understood outcome measurement.
So Thompson organized three 90-minute sessions to teach the agencies the input-outcome model used in social work training. The training enabled the agencies to more accurately measure change in the lives of clients. United Way now has an MU graduate fellow working in Community Impact for one year.
In the Columbia region, four areas of considerable concern are homelessness, affordable housing priorities, domestic violence and food insecurity, based on findings presented in the Boone County Issue Analysis released July 2013.
Marjorie Sable, a campaign tri-chair and director of the School of Social Work, has provided expertise in a number of the four categories, including domestic violence, an issue that has garnered national attention after the recent arrests of several NFL players. Domestic violence is often overlooked as a contributing factor to a family's economic problems. Children growing up in a household of violence can carry the trauma into adulthood.
"Domestic violence is a community problem," Sable said. "We have to change the culture of how we treat each other. This cannot be addressed just by working with individuals. Communities need to take a look at what we are doing that supports this type of interpersonal violence."
The Model Is Working
Outcomes from Community Impact agencies funded by the 2013 campaign are impressive. For example, there has been a 62 percent reduction in the use of illegal drugs by adolescent participants in the area of health services; 10,640 students received dental health services; and 24,752 individuals received needed food assistance.
To review the full report of the 2013 Community Impact results, visit www.uwheartmo.org.
"United Way can't do it all," Rich said. "Our agencies can't do it all. But as a community, if we come together and are exposed to the challenges, we start changing hearts and minds and, literally, the life experience on the ground in Columbia."