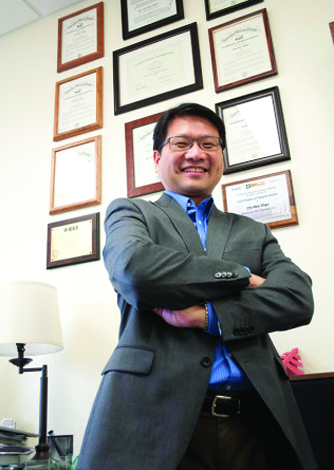 The National Science Foundation (NSF) awarded $1 million in two grants last month to the University of Missouri to install a supercomputer enabling data-intensive research and education at MU in fields such as bioinformatics, geoinformatics, high performance computing and engineering applications.
The grants also will fund the position of a cyberinfrastructure (CI) engineer at MU. Together, the equipment and expert personnel will lead a network of data analysis capabilities at MU that will be shared with other campuses within the University of Missouri System.
"Research advancements sometimes are hampered by the ability to process the huge amounts of data scientists are collecting," said Chi-Ren Shyu, chair of the Department of Electrical and Computer Engineering in the College of Engineering and director of the Informatics Institute at MU.
"The advanced equipment provided by this grant will enable scientists and engineers to team with computational researchers to understand the bottleneck of data analytics and identify efficient hybrid computer cloud environments for faster and more accurate scientific discoveries," Shyu said.
The initiative will create a secure cloud network that can seamlessly connect local and remote users as well as public cloud infrastructures to meet the data-intensive research needs of its users.
Shyu and his team have collaborated with several MU researchers who are conducting studies that will use the state-of-the-art technologies.
The CI engineer, meanwhile, will collaborate with researchers to develop new tools and provide the expertise needed to quickly adapt the network, analyze it for efficiency and ensure that scientists are receiving proper insights from their data.
Shyu predicts that the equipment and new CI expertise will provide cost savings for future research projects.
The research and education initiative highlights the support of the development of the data science and analytics master's degree program from Mizzou Advantage, an initiative that fosters interdisciplinary collaboration among faculty, staff, students and external partners to solve real-world problems in four areas of strength identified at MU.
— Jeff Sossamon