To the casual observer, it's a block of wood. To Steven Winters, it's endless possibilities.
Winters, an associate director of Student Information Systems, turns basswood into whimsical cottages, mysterious gnomes, proud-looking wildlife and ornamental furniture pieces.
"I look at a block and imagine where the pieces are," Winters said. "I have a pretty good imagination."
More than 10 years after his first woodcarving experience, Winters returned to the craft. His creations were on display last May at the arts and crafts showcase during Staff Recognition Week.
In 1983, Winters earned a degree in petroleum engineering from the University of Missouri Science and Technology in Rolla. The timing was bad. Two years earlier, the American oil industry had collapsed as refineries focused on buying cheaper oil overseas. Petroleum jobs vanished.
Winters switched careers by accepting an information technology job at MU. Nine years later, he earned a master's in computer science.
Through it all, Winters retained his fascination with woodworking. As a boy, he watched woodcarvers ply their trade at the Silver Dollar City theme park near Branson, Missouri.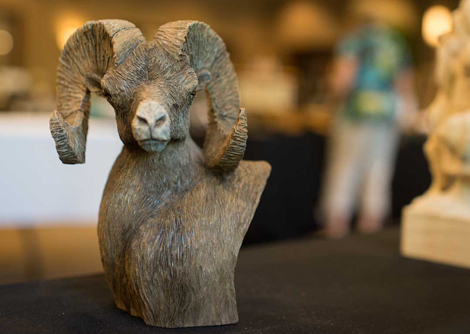 Finally, in 1999, Winters signed up for a weeklong seminar at Mark Adams Woodworking in Franklin, Indiana.
After completing the seminar, however, Winters took on a project bigger than chiseling basswood in to shapes. He built his home. It would be more than a decade before he returned to his boyhood love.
Several years ago, Winters began taking part in carving sessions and workshops organized by the Mid-Missouri Wood Carvers, which meets at the Columbia Senior Center. He has since created dozens of pieces.
"When you get a block of wood, you whack away at it, and you are in control," Winters said of the process. "But when you get down to the details, the piece controls you."
Finding art in wood has its perks.
"I can slow down and relax when carving," he said. "It is an outlet."