The University of Missouri System has released premiums for the three 2015 health plan options.
All benefit-eligible employees must choose a plan or opt out during enrollment Oct. 20-31. This includes employees who want to keep their 2014 plan, change to an alternative plan or continue to opt out. If no action is taken, employees will default to the Healthy Savings Plan and pay taxes on the premiums.
• The Healthy Savings Plan, formerly known as the myOptions Plan.
Premiums for 2015 are $85 self; $170 self plus spouse; $145 self plus child or children; $238 self plus family. These are close to 2014 myOptions premiums, with the largest difference being self plus spouse (previously $187.70) and self plus family (previously $246.28).
This plan includes the Health Savings Account (HSA), which can help reduce your taxable income and provide a savings account to be used for health care expenses.
HSA is a savings account that can be used to pay for eligible medical, prescription, dental and vision expenses by using an HSA debit card. The HSA funds are tax-free for paying eligible medical costs.
Participants could also opt to build up the HSA fund by paying expenses out of pocket until meeting the annual deductible. Any account money remaining by year's end rolls over to the following year.
If the balance amounts to more than $2,000, participants can invest it in mutual funds. If participants leave MU, they take the HSA money with them.
For 2015, the university makes an annual contribution to the HSA based on coverage level.
• Self only: $400
• Self plus spouse: $800
• Self plus children: $800
• Self plus family: $1,200
 The IRS maximum HSA contribution has increased $50 to $3,350 self and $100 to $6,650 family.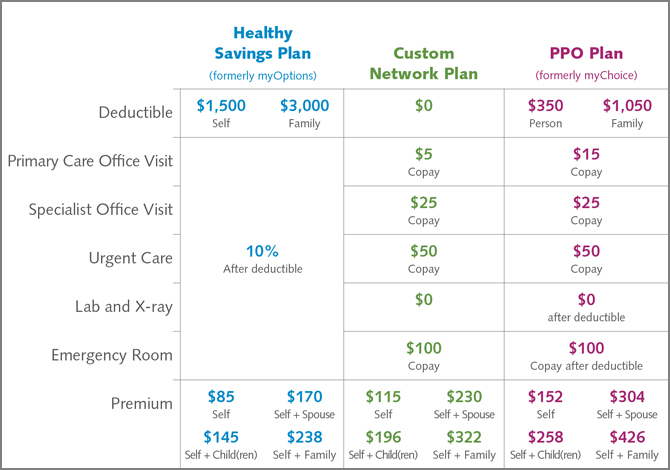 • The Custom Network Plan. This new plan for 2015 will offer a midlevel premium (between the Healthy Savings and PPO plans), $0 deductible and reduced co-payments.
Premiums are $115 self; $230 self plus spouse; $196 self plus child or children; and $322 self plus family.
This plan is only for benefit-eligible MU employees who live or work in Columbia-area counties: Cole, Cooper, Howard, Moniteau, Osage, Randoph, Audrain, Boone and Callaway.
This network gives employees access to MU Health Care and Capital Region Medical Center providers, clinics and hospitals. (Visit www.ummedcvty.com to see the list of network providers.) 
• The PPO Plan, formerly the myChoice Health Plan.
Premiums for 2015 are $152 self; $304 self plus spouse; $258 self plus child or children; $426 self plus family.
Except for the self and spouse choice, the premiums are higher than they were in 2014 in the myChoice Health Plan. Last year, premiums were $138.50 self; $235.62 self plus children; and $401.34 self plus family.
Also, the deductible has increased to $350 self and $1,050 family.
With this plan, employees have the choice of seeing in-network or out-of-network providers. If participants stay in-network, costs might be much lower.
When choosing one of these plans, employees should consider their and their family's level of health and financial situation to determine which plan is best for them. Each plan offers benefits that will appeal to different employees.
RESOURCES FOR MORE INFORMATION
Expanded resources for this year's annual enrollment include:
• Your 2015 Annual Enrollment Decision Guide. Available online. 
• myBenefits Decision Center: Available in October within myHR, this online system will allow you to make side-by-side comparisons of the plans offered. 
Town hall meetings: Get an overview of what's new this year and the details of medical plans. Town halls are through October. View the schedule.
Departmental meetings: Human resource specialists are visiting schools and departments to deliver educational presentations. Managers may request a presentation at umhraetotalrewards@umsystem.edu.
One-on-one meetings: Attend a one-on-one personal consultation with a benefits specialist. These sessions are through October. View the schedule and sign up.
For more information, contact Campus Benefits Representative, the HR Service Center at (573) 882-2146 or HRServiceCenter@umsystem.edu.