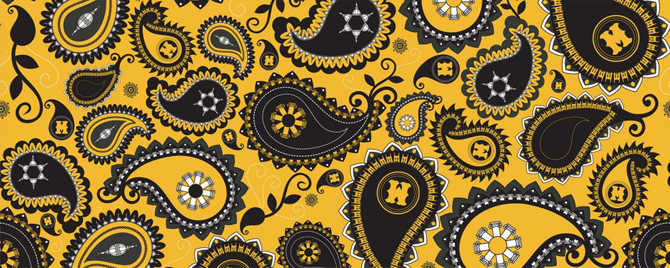 Art Professor Deborah Huelsbergen is always doodling — at conferences, during her daughter's piano lessons, while waiting in line at a store. The margins of her notebooks are full of crazy tangled drawings. So, in early 2014, when MU commissioned a signature Mizzou paisley in honor of its 175th anniversary, Huelsbergen jumped at the chance to design it.
Paisley's distinctive characteristic is its colorful, curved, abstract pattern.
"There are icons associated with Mizzou — Jesse Hall, the Columns, tiger stripes — that lend themselves well to repetition," Huelsbergen says. "The idea is that when you look at it, you see paisley, but when you get up close, you would notice that it's the Jesse Hall dome."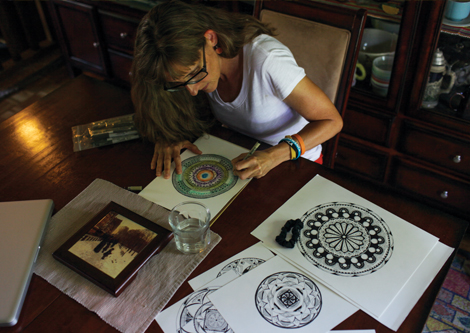 Like the Mizzou plaid created by Lauren Drufke-Mahe while a student in the College of Human Environmental Sciences, the paisley could decorate neckties, bow ties and scarves, as well ID holders, coasters and pajamas.
Huelsbergen spent the summer researching the history of paisley, sketching patterns, and playing with how the capitals of the Columns and the Jesse Hall dome repeat. She designed two patterns, one predominately black and another gold. The final designs were unveiled this month.
This story first appeared at MIZZOU magazine online.
— Kelsey Allen