Title IX coordination, 2015 benefits changes and Thursday night football were discussed at Faculty Council's Sept. 4 meeting in Memorial Union.
Title IX
Linda Bennett, interim campus Title IX coordinator, and Marsha Fischer, a lawyer in the general counsel's office of the University of Missouri System, gave an update on Title IX.
In coming weeks, Title IX reporting training will be available for MU employees, Bennett said. A website devoted to Title IX issues will also be rolled out.
"We are taking into consideration how we are handling all discrimination," said Fischer, who was hired in May. "We are stepping up and meeting our responsibility."
Besides Bennett, MU's Title IX team consists of Noel English, director of MU Equity; Cathy Scroggs, vice chancellor for student affairs; Salama Gallimore, hired in May as Title IX investigator; and Sarah Reesman, Title IX deputy coordinator and executive associate athletic director for Intercollegiate Athletics.
Earlier this year, all four system campuses assessed their Title IX reporting procedures and made changes where needed. In April, UM System President Tim Wolfe made an executive order that all employees — other than those who have a legal obligation to maintain confidentiality — are required to report claims of sexual harassment toward students to the appropriate Title IX coordinator.
Health Benefit Changes
Kelley Stuck, system associate vice president for human resources, talked about 2015 health benefit changes.
Three plans will be available:
• The Healthy Savings Plan, formerly known as the myOptions Plan. This plan offers a low premium, system contribution to a Health Savings Account and a lower combined out-of-pocket limit for both medical and prescription drugs. There are no changes to the deductibles, co-insurance and out-of-pocket maximum. However, the system is changing its contribution to the plan's Health Savings Account. Contributions will now be more closely tied to coverage level (self; self plus children; self plus spouse; self plus family).
• The PPO Plan, formerly the myChoice Health Plan. This plan has the highest premium, a midlevel deductible and the same nationwide network of providers as the Healthy Savings Plan. The 2015 PPO Plan will have a deductible increase, among other changes.  
• The Custom Network Plan, new for 2015. This plan will offer a midlevel premium (between the Healthy Savings and PPO plans), $0 deductible and reduced co-payments. The plan is available only to benefit-eligible MU employees who live or work in one of nine counties of greater Columbia, and the health network is mostly limited to MU Health Care providers and facilities.
More information on the plans, including premiums, will be released soon.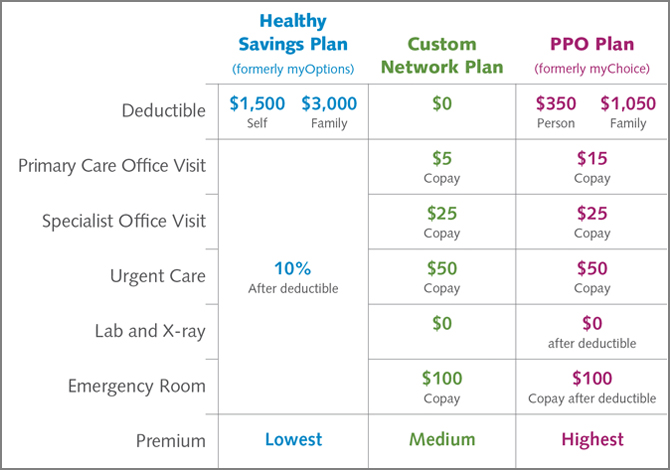 Employees who want to keep their 2014 plan must actively choose it during the week of Oct. 20-31, Stuck said. Employees who want to continue to opt out of a health plan will have to actively opt out. If no action is taken, employees will automatically enroll in the Healthy Savings Plan and pay taxes on the premiums.
Stuck encouraged mangers and department chairs to learn as much as they can about the 2015 benefit options so they can answer questions from their direct reports. "You don't need to be an expert, but you do need to know where to send others to get information," Stuck said.
There are plenty of resources for more information on the plans, including one-on-one sessions and town hall meetings. For more information, contact Campus Benefits Representative, the HR Service Center at (573) 882-2146 or HRServiceCenter@umsystem.edu.
Thursday Night Football 
Being part of the Southeastern Conference comes with the possibility of Thursday night football for the Missouri Tigers. Intercollegiate Athletics is trying to limit participation to one home and one away game every four years. The first proposed home date is Nov. 5, 2015.
Lori Franz, a member of the Intercollegiate Athletics Committee, said faculty who teach a Thursday night class would have to decide whether to hold or cancel a class on Thursday football night. 
Council members were concerned about the disruption a Thursday game would have on classes on game day and, as Faculty Chair Craig Roberts put it, on "hangover Friday." There will also be weekday parking logistics to work out.
Faculty Council's next meeting is Sept. 16.