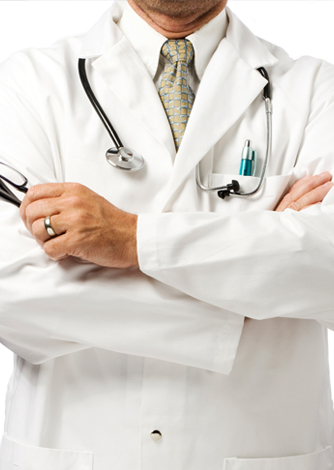 Change is coming to the health plans offered to employees by the University of Missouri System. A third medical plan option, increased wellness incentives and active enrollment are the highlights.
But don't be overwhelmed. The system is offering town hall meetings, one-on-one counseling and online help so employees are in the loop on the changes before they must enroll Oct. 20-31 for calendar year 2015 health benefits.
Why Is This Happening?
The system's health benefit plans stack up well when compared to those of other university systems. But as medical costs continue to rise, the current plans will become unsustainable. With no restructuring of health benefit options, the system would need an additional $60 million by 2017 to fund the plans, said Kelli Holland, system manager of communications and training.
In June 2013, the system's Total Rewards Ad Hoc Task Force was formed to develop recommendations that address the benefits cost problem. Two of the eight recommendations are to increase communication and education to employees about benefits, and use medical plan options to lower costs and encourage healthful behavior.
The 2015 health benefit changes are a response to the two recommendations.
Plans: Three's Company
The system wants employees to have the option to choose a plan that limits out-of-pocket expenses while offering a more affordable premium. For 2015, it will offer three options — two familiar and one new.
First, the familiar:
• The Healthy Savings Plan, formerly known as the myOptions Plan. This plan offers a low premium, system contribution to a Health Savings Account and a lower combined out-of-pocket limit for both medical and prescription drugs. There are no changes to the deductibles, co-insurance and out-of-pocket maximum.
However, the system is changing its contribution to the plan's Health Savings Account. Contributions will now be more closely tied to coverage level (self; self plus children; self plus spouse; self plus family).
• The PPO Plan, formerly the myChoice Health Plan. This plan has the highest premium, a midlevel deductible and the same nationwide network of providers as the Healthy Savings Plan. Compared to last year's, the 2015 PPO Plan will have a deductible increase and other changes.  
Why were the plans renamed? It was in response to feedback from faculty and staff who said the former names failed to suggest the substance of the plans.
Now, the new plan:
• The Custom Network Plan. This plan will offer a midlevel premium (between the Healthy Savings and PPO plans), $0 deductible and reduced co-payments. However, benefit-eligible MU employees must live or work in one of nine counties of greater Columbia, and the health network is mostly limited to MU Health Care providers and facilities.
When choosing one of these plans, employees should consider their and their family's level of health and financial situation to determine which plan is best for them, Holland said. Each plan offers benefits that will appeal to different employees.
The system will soon release premiums and other information on the three benefit options. An online myBenefits Decision Center will be available in myHR in October.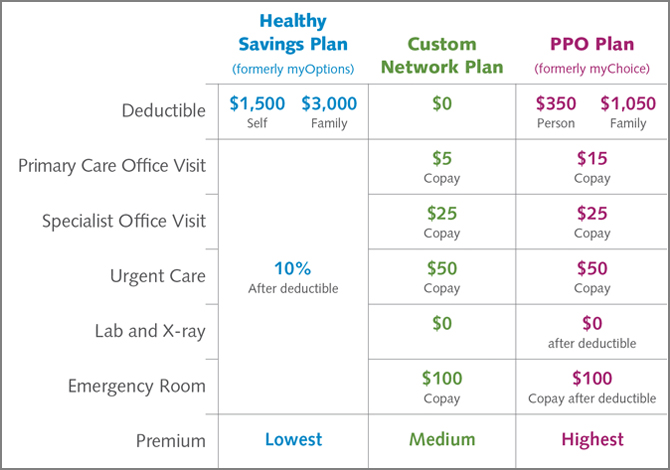 Wellness: Let's Move 
The system's Healthy for Life wellness program is dedicated to educating employees about the importance of maintaining good health and providing resources for health improvement. As an incentive for employees to get healthy, the system is offering up to $450 in a two-tiered program:
• "Educate Yourself": Earn $150 for completing a wellness pledge, a personal health assessment and health screening.
• "Invest in Yourself": Earn an additional $300 by participating in healthful activities and behaviors and documenting your completion. Activities include getting a flu shot, walking, biking, remaining tobacco-free or completing tobacco cessation program, and taking an online wellness workshop. For more, click here.
Action: Choose a Plan or Opt Out
Enrollment for choosing one of the three health care plans is six weeks away. No one, including those who opt out of coverage, can be a couch potato that week. 
Employees who want to keep their 2014 plan still must actively choose it that week. Employees who want to continue to opt out of a health plan will have to actively opt out. If no action is taken, employees will default to the Healthy Savings Plan and pay taxes on the premiums, Holland said.
Why can't 2014 benefit elections rollover to the new year? The system wants employees to think seriously about their 2015 health benefits. As UM System President Tim Wolfe put it in his Aug. 27 email to employees: "Active enrollment encourages informed decision-making with regard to medical plan choices and increased engagement in our expanded wellness opportunities."
Feeling overwhelmed? Not to worry. Watch for home mailings and office emails for benefit updates. Also see the info box below with links that include the schedule of town hall meetings and how to set up a one-on-one information appointment.
And keep reading Mizzou Weekly for updates on 2015 health benefits.
RESOURCES FOR MORE INFORMATION
Expanded resources for this year's annual enrollment include:
2015 Annual Enrollment Guide: In early September, this guide will be mailed to the mailing address you've specified in myHR. You will also be able to access it electronically from the Direct Mailings webpage once it's available. 
myBenefits Decision Center: Available in October within myHR, this online system will allow you to make side-by-side comparisons of the plans offered. 
Town hall meetings: Get an overview of what's new this year and the details of medical plans. Town halls are Sept. 15 through October. View the schedule.
Departmental meetings: Human resource specialists are visiting schools and departments to deliver educational presentations. Managers may request a presentation at umhraetotalrewards@umsystem.edu.
One-on-one meetings: Attend a one-on-one personal consultation with a benefits specialist. These sessions are Sept. 15 through October. View the schedule and sign up.
For more information, contact Campus Benefits Representative, the HR Service Center at (573) 882-2146 or HRServiceCenter@umsystem.edu.