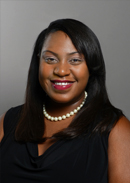 Ryane Boyd
Ryane Boyd wanted to go to college, but she didn't know how to choose the right one from the more than 4,000 higher education institutions in the United States. Luckily, Boyd's St. Louis high school partners with the
Missouri College Advising Corps
(MCAC), an MU program that hires recent MU graduates to advise low-income, first-generation and underrepresented Missouri students on how to apply and ways to pay for college.
Boyd's adviser, 2007 Mizzou graduate Devin Cromwell, helped her arrange campus tours, prepare for the ACT and fill out the Free Application for Federal Student Aid. Boyd became the first person in her family to go to college, and in 2014, the Mizzou graduate became the first MCAC advisee to become an adviser.
Boyd joins 40 other advisers serving 37 schools throughout the state, including south Missouri, thanks to a $524,000 grant from AmeriCorps. During the 2013 academic year, there were only 25 advisers in 26 schools.
 "The bottom line is this program and collaboration with the schools helps to send more students to college each year," said Beth Tankersley-Bankhead, the program's executive director.
Since the MCAC was established at Mizzou in 2007 with a $1 million grant from the Jack Kent Cooke Foundation, there has been an average 10-percentage point increase in students from partner schools going to college.
Throughout the course of the year, advisers complete 17 defined outcomes, including meeting one-on-one with each senior and junior at their school; planning and delivering workshops on college applications, financial aid and college life; and organizing campus tours. In the 2013 academic year, advisers held 34,667 one-on-one meetings with students. 
"The beauty of the advisers being in the school full time, each and every day, is they are a consistent figure, they become known, they become trusted by the students, and they're there to help at any given time," Tankersley-Bankhead said.
As Tankersley-Bankhead looks to the future, she hopes the MCAC will grow to serve 64 schools, expanding its footprint even farther into southeast, central and southwest Missouri.
This summer, the MCAC also opened the Kansas City Metro College Connections Center to help students with last-minute questions before they start school in the fall. Tankersley-Bankhead said as many as 40 percent of students who are college bound end up not attending college in the fall due to problems that can be solved.
"It could be that they didn't complete a paper, didn't pay a deposit on time or don't have a ride to campus, so they think all is lost," she said. "In the summer, they don't have the support around them, and we can do something about those problems, so the center was there to help."
For nine weeks, high school guidance counselors, financial aid experts and admissions representatives staffed the center at the Metropolitan Community College Penn Valley campus. By the end of the summer, the MCAC had served 125 students from 43 high schools.
In early August, Boyd walked into Carnahan High School in St. Louis where she will spend the next two years as an adviser. She thought back to how her adviser wanted her to be enrolled at a college right for her. She said she's looking forward to doing the same for her advisees.
"When you're a student and you hear someone older than you say you should do something, it goes in one ear and out the other," Boyd said. "So I'm not going to preach. I'm going to come down to their level. I've been there."
— Kelsey Allen