The MU Children's Hospital unveiled Monday its renovation and expansion of the Neonatal Intensive Care Unit (NICU).
The $3.1 million upgrade adds 10 specialty beds to the unit, which provides critical care to premature and critically ill newborns, bringing the total number of beds to 48. Each of the single patient rooms is equipped with "smart room" technology. A monitor displays a 24-hour record of the baby's vital signs.
Other features include 20 single-patient rooms and two lactation areas that give new mothers private space for breastfeeding. There is also a family-infant room where parents can stay overnight with their newborns.
"This new space creates a more patient-and-family-centered environment, which enables our team to deliver the best care and experience possible," said Keri Simon, executive director of MU Women's and Children's Hospital. "All of the additions promote the participation of the family in the baby's care and transition to home."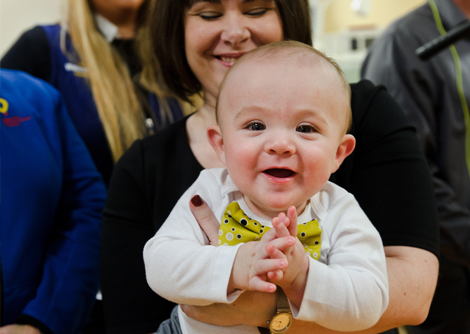 The NICU team cares for more than 500 premature and critically ill infants each year. At the ribbon cutting, Kristina and Matt Hollrah spoke about the exceptional care their newborn Oskar received this year. Oskar was 15 weeks premature and spent 81 days in the NICU.
Funding for the expansion and renovation was in part through a $1 million pledge from MizzouThon, the largest student-run philanthropy at the University of Missouri. The NICU has been renamed the MizzouThon Neonatal Intensive Care Unit in recognition of the pledge.
Read about two Children's Hospital NICU nurses who are twin sisters and who were honored with the 2013 Nurses of the Year award.