A months-long national search for the University of Missouri's next provost, which included four finalists each participating in a public forum on campus, has concluded, Chancellor R. Bowen Loftin announced Thursday.
Garnett Stokes of Florida State University will begin as MU's provost and executive vice chancellor for academic affairs Feb. 2, 2015.
During a public forum Nov. 10 in Lefevre Hall, Stokes presented herself as a collaborator, straight talker and careful decision-maker who understands the importance of membership in the Association of American Universities and of rewarding faculty for their accomplishments.
She has led Florida State through controversies that have garnered national media attention, including Title IX issues; created a task force to address sexual and domestic violence; and developed programs that enhance the student experience, such as a new liberal studies curriculum. She heads FSU's Diversity and Inclusion Council.
"I am delighted that I emerged as the person chosen to help Missouri achieve what it wants to accomplish," Stokes, 58, said in an interview Thursday. "I look forward to working with everyone on campus to build on the excellence already in place."
Since August 2011, Stokes has served as provost and executive vice president for academic affairs at Florida State, a public research university in Tallahassee with more than 41,000 students. This year, from April to November, she was also interim president.
Stokes was the only finalist with a social science background. She earned her doctorate in 1982 in industrial and organizational psychology at the University of Georgia. Three years later, she joined the Georgia faculty. From 1999 to 2004, she led Georgia's psychology department, then was named dean of its Franklin College of Arts and Sciences, a position she held for seven years.
Two years ago, to build faculty morale and raise FSU's academic reputation, Stokes launched the Extraordinary Accomplishments Program, which rewards high-achieving faculty with permanent salary increases. As provost and interim president, she was involved in Florida State's efforts to become a Top-25 public research institution and position itself for AAU membership.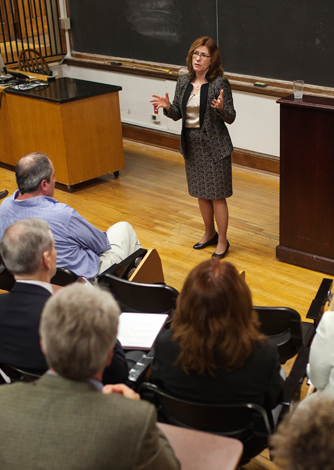 "She appreciates the AAU," Faculty Chair Craig Roberts said Thursday. "She was part of team that made Florida State AAU-ready."
Florida State has made national headlines involving Title IX issues; it is among 55 American higher learning institutions under federal investigation. Media outlets have also reported on possible favoritism by the Tallahassee Police Department toward FSU football stars. And on Nov. 20, a shooting occurred in the university's Strozier Library that left one gunman dead and three people wounded.
As provost and interim president, Stokes has handled issues that go beyond the everyday administrative challenges of a university executive. "The goal is to stay ahead of something and not be reactionary," she said. "That is a challenge when something unfolds at such a quick pace."
During spring semester at MU, Stokes will conduct a listening tour by meeting with deans, faculty, staff and students. Though she's researched the various units and has an idea what to expect, she wants to unearth the "hidden gems" that need support.
"My goal is get to know the campus," Stokes said. "I will dig deep to learn where Missouri is and where we need to go."
Joining Stokes in her move to Missouri is her husband, Jeffrey Younggren, a practicing forensic and clinical psychologist. The couple has two grown children, Brad and Beth Ann, and four grandchildren.
Kenneth D. Dean, JD '76, has served as MU's interim provost since Brian Foster retired from the position January 1, 2014. Dean was appointed interim associate provost in 2004 and deputy provost in 2007. 
He joined the MU School of Law faculty in 1977 and has served as the law school's acting dean, interim dean, associate dean and director of continuing legal education.