Life's a beach at MU's Women's and Children's Hospital, at least in the MRI room.
A few months ago, the hospital unveiled a new look to the radiology department's MRI room that makes it more kid-friendly. A representation of a sandcastle is built around the MRI machine, and the room's wall murals depict a seashore with blue skies above. Actual beach chairs for parents complete the look.
The Children's Hospital performs up to 2,700 MRI scans a year. Each one can range from 30 to 90 minutes, and machine noises are part of the experience. To distract the children from the confines and strange sounds, facilitators equip the patients with earphones and special video goggles. Patients spend their time inside the MRI cylinder watching and hearing a children's movie.
"Once they get here and see it is an actual castle, all of that scary stuff behind the MRI kind of disappears," said Paula Rathz, a certified child life specialist. "And when they realize they get to watch a movie and go inside the castle, it becomes a lot better experience for them. When the test is done, they think they are the king or queen of the castle."
The video goggles create the spatial experience of a movie theater. The goggles were purchased using donations from members of the Missouri Credit Union Association, Central Chapter.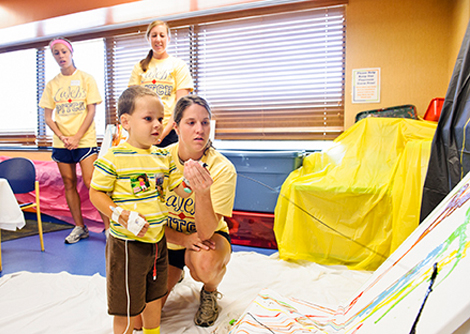 The makeover relaxes patients. Rathz said data shows that fewer patients need sedation since the change.
The Children's Hospital does more than beach scenes and movie goggles for its young patients. Inpatient units sport a jungle theme complete with palm trees sprouting from the floor and illustrated monkeys swinging on the wall. Adolescents are not forgotten. They can pass time playing video games, watching programs on a big-screen TV, and creating arts and crafts. 
Caleb's Pitch is another hospital program that's full of fun. A nonprofit program founded by a professor at the University of Florida, Caleb's Pitch puts paint-filled syringes in the hands of young patients, who squirt a rainbow of colors on white canvases. The program is designed to take away some of the fear associated with syringes. 
— Alaina Lancaster