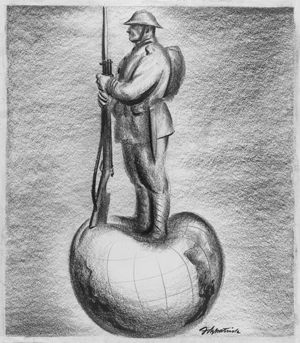 This year, numerous commemorations have been held to remember the Great War, or World War I, that began in Europe 100 years ago, lasting from 1914 to Nov. 11, 1918. Eight and a half million soldiers and 7 million civilians died in the fighting.
This summer, the State Historical Society launched an exhibit that examined World War I's impact on the lives of Missourians through photographs, letters, newspapers, propaganda posters and war artifacts. Through Feb. 14, the society will display "Art for a World at War: WW I Posters and Editorial Cartoons" in the Main Art Gallery.
The exhibit features original wartime posters and editorial cartoons that suggest the hopes, fears and patriotic devotion of Missourians, said curator Joan Stack. This Saturday at 1:30 p.m. in the Main Art Gallery, Stack will lead a walk-through of the exhibit. All are invited to attend.
Gallery hours are 9 a.m.–4:30 p.m. Tuesday–Friday and 9 a.m.–3:30 p.m. Saturday.
The State Historical Society is on the ground floor of Ellis Library next to Lowry Mall.