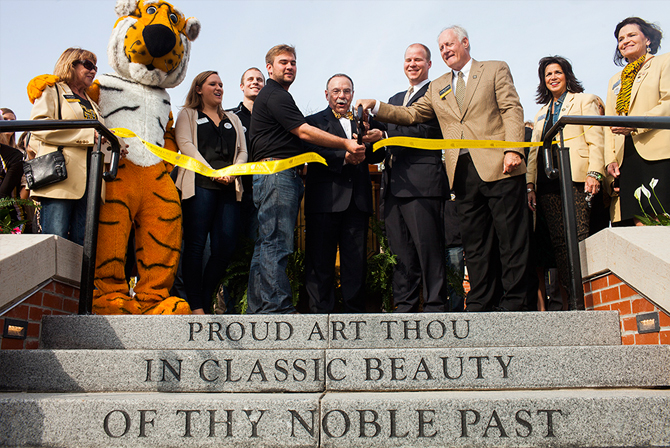 Traditions Plaza was dedicated Oct. 24 on the Carnahan Quadrangle. Among those in attendance were more than 60 descendants of the University of Missouri's founding families, who helped establish MU in Columbia.
The outdoor amphitheater offers gathering and programming space for students, faculty, staff, visitors and alumni. It will be used for concerts, spirit rallies and outdoor classes. The Mizzou Alumni Association (MAA) funded the project. Construction began in July.
Etched into granite pavers on the main stage are representations of 19 MU traditions, such as Homecoming and Tiger Walk. Also on the stage are 36-inch-diameter bronze plaques, which tell the university's history.
Donor names are inscribed on bricks, and more bricks are still available for inscription. In addition, pavers can be purchased for the Mizzou Legacy Circle, which is reserved for families who have attended MU for two or more generations.
Proceeds help pay for MU's traditions, such as Homecoming, Tiger Walk, Tap Day and MAA student scholarships. Learn about paver pricing and how to make a donation at the MAA website.
Assisting outside contractors in the project were a number of Campus Facilities employees:
• Jennifer Dailey, facilities project manager
• Kevin Johnson, construction project manager
• Pete Millier, director of Landscape Services
• John Glenn, senior landscape architect in Landscape Services
• Scott Keith, supervisor in Landscape Services
MAA Executive Director Todd McCubbin credited David Roloff, MAA director of marketing and strategic communications, for coming up with the concept for Traditions Plaza and seeing it to fruition.
During remarks, Chancellor R. Bowen Loftin honored the descendants of MU's founding families. He spoke of Genie Rogers, who was in attendance. She received a bachelor's degree from MU in 1967. Since 1851, seven generations of the Rogers family have earned MU degrees.
Beneath its center, Traditions Plaza has a time capsule to be opened Oct. 24, 2114. Among its contents are mementos from MU's 175th anniversary celebration, facts and figures about MU, and an autographed bow tie from Loftin.
"The University of Missouri has been home to groundbreaking research, award-winning discoveries and moments that Tigers will never forget," MAA volunteer President Dudley McCarter said during remarks. "Thank you to Mizzou's family for making today's dedication possible as a way to celebrate this special moment in our alma mater's history."
View more photos of Homecoming and the Traditions Plaza dedication in the story "Coming Home to Celebrate" on the MIZZOU magazine website.