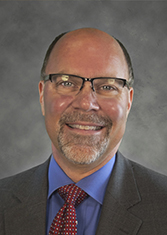 Gary Ward has been named vice chancellor of operations and chief operating officer of the University of Missouri, Chancellor R. Bowen Loftin announced Tuesday. Since Jan. 1, Ward has been serving in the position on an interim basis following the retirement of Jacquelyn Jones. The appointment is effective Monday.
"Gary has done an exceptional job over the past several months and has helped us move forward in several areas," Loftin said in a news release. Loftin praised Ward's track record of utilizing existing campus resources and developing new, efficient and effective means in building management.
He singled out Ward's creation of the Mizzou Stewardship Model, which involves renovating several buildings at once, as in the Renew Mizzou project, while improving and expanding teaching and laboratory space. The approach is highly cost-efficient.
Ward, who started at MU Aug. 1, 2005, will direct university planning and facilities operations in this position. University departments for which Ward provides administrative oversight of financial and service operations include Campus Facilities, MU Police, Parking and Transportation Services, Printing Services, the Sustainability Office, and Environmental Health and Safety.
"I would like to thank Chancellor Loftin for having the confidence in me to serve as the vice chancellor of operations," Ward said. "I look forward to working closely with faculty and students as we structure our services and products to help meet Mizzou's academic goals. My staff and I take our responsibilities of maintaining the safety, functionality and beauty of the state's flagship university very seriously and will continue to ensure that we are spending our public dollars wisely and in a way that will benefit all our faculty, staff and students."
Before being named interim leader, Ward was MU's associate vice chancellor of facilities, where he oversaw the completion of more than $500 million in construction projects, the addition of 2.2 million gross square feet to campus space and the establishment in 2009 of the MU Sustainability Office.
After years working for architecture firms, Ward in 1998 became director of the Physical Plant at the University of Oklahoma. In 2002 he was named director of Physical Plant Operations at Pennsylvania State University.
Ward holds a bachelor's degree in environmental design and a master's in business administration from the University of Oklahoma.