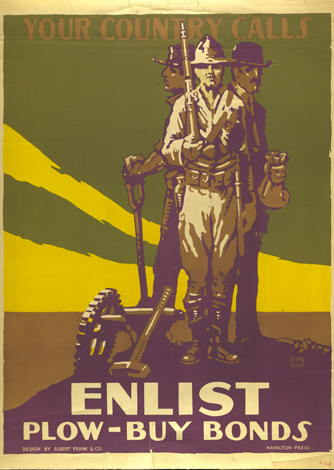 "US OFFICIALLY AT WAR," screamed the Daily Missourian's boldface, uppercase headline on April 6, 1917. The United States had entered the Great War by declaring war on Germany.
This year, numerous commemorations have been held to remember the Great War, or World War I, that began in Europe 100 years ago, lasting from 1914 to Nov. 11, 1918. Eight and a half million soldiers and 7 million civilians died in the fighting.
Through Oct. 20, the exhibit "Missouri and World War I" will be presented in the Corridor Gallery of the State Historical Society in Ellis Library. It examines war's impact on the lives of Missourians through photographs, letters, newspapers, propaganda posters and war artifacts. Most of the 50 displays were provided by MU's Museum of Anthropology, MU's Museum of Art and Archaeology, and the collection of Missourian John R. Forderhase.
Organizers hope that the show helps viewers understand the war's impact on Missourians and gives a sense of the period's cultural and political climate, said Claire Presley Marks, associate historian at the society.  
More than 4 million male American citizens between ages 18 and 31, including 156,000 Missourians, headed abroad to the bloody trenches and open fields. Eleven thousand Missourians died. Six received the Congressional Medal of Honor.
Back home, Missouri farmers expanded their crop fields to help feed the war-torn states of Britain and France. Ranchers supplied the U.S. military with hundreds of mules to pull wagons loaded with soldiers and artillery. Missouri women filled jobs vacated by the young men fighting in "the war to end all wars."
World War I marks the beginning of modern warfare, exemplified by the use of efficient mass killing methods like machine guns, aerial bombing, chemical weaponry and heavy artillery fitted on armored vehicles. So it is sometimes forgotten that swords were also used in battle, though mostly only in the first weeks of the Great War. A sword-wielding soldier was no match for contemporary killing technology. Swords soon were relegated to ceremonial use.
John H. Patrick brought his brass and steel sword home to Higbee, Missouri, after serving in the 29th Engineer Battalion, and it is part of the exhibit. Also included are Patrick's German and American gas masks he brought back.
The contraptions essentially are a faceplate with glass eye holes connected to a cloth accordion tube, giving the wearer an elephant appearance. The tube led to a metal canister filled with an anti-chemical cocktail inhaled by the soldier. Though the masks were cutting edge technology then, to a modern eye they resemble cheap Halloween costumes. 
Communication methods during the war mixed the old and the new. Runners and dogs, flags and rocket signals were used to relay messages between commanders. But so were field telephones, connected to manually laid lines unwound from a signal officer's backpack.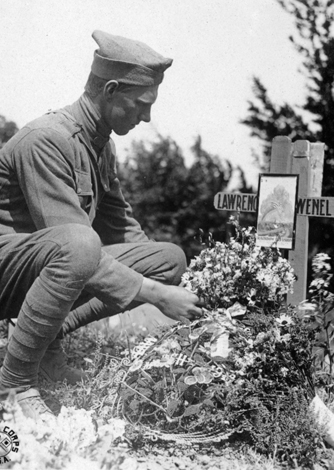 In the gallery is a photo of U.S. soldier Rubi Garrett, a lawyer from Kansas City who became a chief signal officer in the war. Wearing the iconic inverted bowl military helmet donned by Americans and the British, the bespeckled Garrett is shown testing a field telephone confiscated from the Germans.
In today's world of email, text messaging and word processors, it feels nostalgic to see in the exhibit the slanted cursive handwriting in diaries and letters, enlarged and displayed as wall text. In the sometimes barely legible pages, soldiers describe everyday duties and the horrors of war. One letter is from Dix Teachenor, a Missourian stationed at Base Hospital No. 28 in Limoges, France. Teachenor saw firsthand the power of the new war technology to destroy the human body beyond repair.
"It seems so unnecessary for young men to die from bad wounds in war," Teachenor wrote his mother. "For each one, I think of their mother at home."
The gallery, located on the ground floor of Ellis Library facing Lowry Mall, is open 8 a.m.–4:45 p.m. Tuesday–Friday and 8 a.m.–3:30 p.m. Saturday.