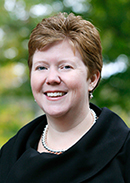 Ellen de Graffenreid starts Tuesday as vice chancellor for marketing and communications of University Affairs. De Graffenreid brings to the position 20 years experience in higher education, academic medicine and the private technology sector.
"I am excited to have the opportunity to lead a talented staff in developing an integrated marketing strategy that conveys the quality of the people, programs and discoveries that make up one of this nation's premier land-grant universities," she said in a statement.
Chris Koukola, who retired Jan. 31, 2014, had led the division for nearly 28 years. Since February, Mary Jo Banken has been interim division leader and will return to her role as director of MU News Bureau.
For 20 months, from January 2013 to July 2014, de Graffenreid was senior vice president of communications at Brandeis University, a private liberal arts college of 5,400 students near Boston that is a member of the Association of American Universities.
She has extensive experience in health care communications. De Graffenreid was director of communications and marketing at Lineberger Comprehensive Cancer Center at the University of North Carolina from 2009 to 2013, and director of health sciences communication and marketing at the University of Louisville from 2004 to 2009.
Her work experience also includes more than three years as vice president of communications and donor relations at the Washington State University Foundation, which raises money for the institution in southeastern Washington, and three and a half years at several private technology companies.
She received her bachelor's degree in history in 1991 from Indiana University in Bloomington where she was named to Phi Beta Kappa. De Graffenreid also holds a master's in Russian history and an MBA, both from the University of North Carolina.
"I am looking forward to working with her as Mizzou continues to position itself as one of the premier land-grant research institutions in the nation," Chancellor R. Bowen Loftin said.