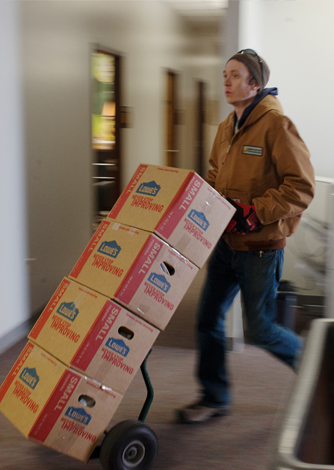 The move of some 1,000 employees and truckloads of office materials as part of Renew Mizzou is taking on more urgency. 
In May, the Department of Anthropology staff and faculty in Swallow Hall move to leased office space at University Place, said Heiddi Davis, Campus Facilities director of space planning and management. Faculty will also continue to use lab space at McReynolds Hall. The anthropology museum moves to Mizzou North.
Under way since February is the formidable task of relocating hundreds of Jesse Hall employees. Beginning this month, the Office of the Provost will move to the General Services Building, Davis said. In June, Chancellor R. Bowen Loftin and his staff will move to Reynolds Alumni Center.
Other Jesse Hall offices and departments will relocate to the General Services Building, McReynolds Hall, Reynolds Alumni Center, Mizzou North, Ellis Library, the Heinkel Building and Hillel Center, Davis said. 
In December 2013, the art history and archaeology department left Pickard for offices in McReynolds and Parker. Earlier this year, the Museum Store and the Cast Gallery of the Museum of Art and Archaeology moved from Pickard to Mizzou North.
The moves are the result of the scheduled renovation of Swallow and Jesse halls, and the decommissioning of Pickard Hall.