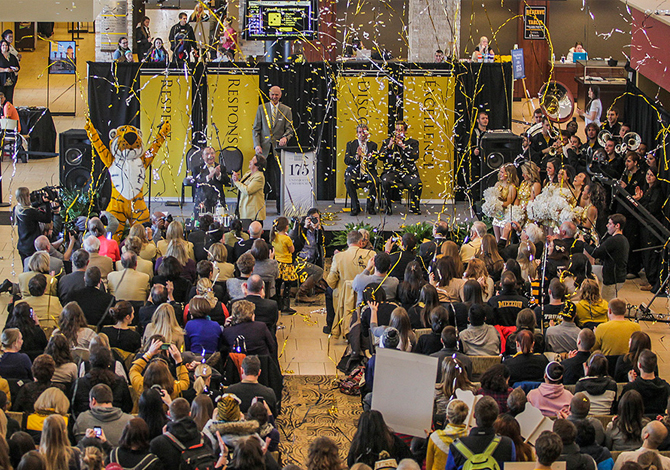 Mizzou students, faculty, staff and Columbia community members celebrated Tuesday the 175th anniversary of the University of Missouri's founding. The Student Center was festooned with black-and-gold banners, and party attendees were decked in black-and-gold scarves, knit caps, sweaters, skirts, and long and bow ties.  
The party included a brief program featuring Chancellor R. Bowen Loftin; Gary Link, special assistant to the MU athletic director; Mason Schara, Missouri Students Association president; Jake Wright, Graduate Professional Council president; Mini Mizzou; the Golden Girls; and Truman the Tiger. 
Link, who served as the master of ceremonies, introduced Loftin in his first public appearance on campus since starting as chancellor Feb. 1. 
"We hit it out of the park," Link said of Loftin's hiring. "He is brilliant with a capital B, but more important than that, he brings energy, he brings passion and he brings vision."
Donning his trademark bow tie, Loftin briefly recounted MU's history as a public land-grant research institution. 
"Today marks the 175th anniversary of the founding in 1839 of this institution when 900 residents of Boone County gave land and cash to establish the first public institution west of the Mississippi River and the very first state university founded in [Thomas] Jefferson's Louisiana Purchase Territory," Loftin said. "Universities endure. They have permanence. They have impact. And I'm so proud to be a part of this institution, especially proud to be here today for this celebration."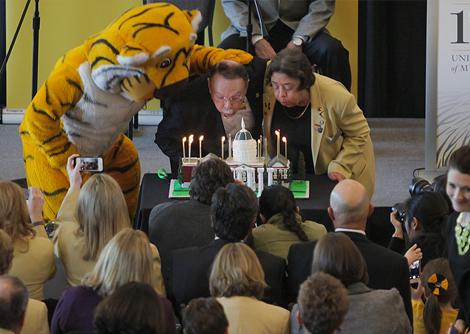 Mizzou Forte, the premier co-ed a cappella group, led the audience in singing happy birthday to Mizzou while Cindy Mustard, one of the founding family representatives, lit the candles on a large cake of Jesse Hall and the Columns. 
Before the song was over, Truman the Tiger burst through a large paper banner and assisted Loftin and Mustard in blowing out the candles. Streamers rained down from the ceiling as Mini Mizzou and the Golden Girls closed the ceremony. 
After the ceremony, MU senior and 2014 Mizzou '39 award recipient Marnae Chavers hung around for cake, tiger stripe ice cream and a free T-shirt.
"It's an amazing feeling," said Chavers, a senior human development and family studies major. "To be a part of history, and to be here in this moment, feels good. Fifty years from now I'm going to be able to tell my kids I was at the 175th birthday of Mizzou. Hopefully, they'll go here, too." 
— Kelsey Allen