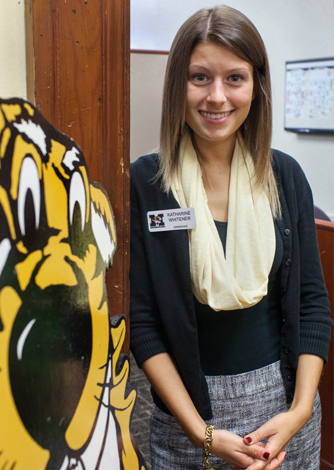 With the number of state high school graduates declining — 5,000 fewer since 2010, according to one estimate — the Office of Admissions is expanding its recruiting footprint out of state. 
In recent years, four regional admissions representatives have recruited in the Chicago, Dallas, Minneapolis and Denver markets. Mizzou's move to the Southeastern Conference provided an opportunity to reach even farther. 
"We believe Mizzou has something to offer students from across the country," said Chuck May, senior associate director of admissions. "The more students that come from out of state, the more Missouri students are exposed to different cultures and customs. This helps prepare every student on our campus for the workforce in their chosen field."
In fall 2013, the admissions office added regional representative Katharine Whitener to cover Nashville, Tenn., and Atlanta. 
Born and raised in Columbia, Whitener bleeds black and gold. She graduated from MU in 2001 with a degree in textile and apparel management. Although she still lives in Columbia, she flies south on Sundays and returns on Fridays. 
"I've got it down to a science," she said. 
Whitener visits about 20 high schools a week, attending college fairs, meeting with groups of prospective students and chatting with families at local coffee shops. 
She occasionally sets the record straight about Mizzou — no, it's not in a cornfield in the middle of nowhere; no, it's not a community college. 
In Atlanta, she compares MU and Columbia to the University of Georgia and Athens. In Tennessee, she references the University of Tennessee and Knoxville. Once students understand the comparisons, they get excited, Whitener said. 
"Watching them have that realization is the coolest thing," she said. "Obviously, having a winning football team doesn't hurt, either." 
In general, prospective students in Missouri, Nashville and Atlanta have similar concerns. They're worried about moving away from home, choosing a major, paying for school and getting a job. 
The students are often looking at other SEC schools, including Georgia, Tennessee, Ole Miss and Mississippi State. Their academic interests encompass everything from business to engineering, anthropology to history, journalism to pre-med. Whitener's most effective recruiting technique is sharing her Mizzou experiences.
Though MU has more than 34,000 students, Whitener never felt adrift on a sea of anonymity.
"I actually had no clue how many students went to Mizzou until I started to work for the university," Whitener said. "If you would have asked me when I was a student, I would have said there are a few thousand people here."
She stresses the importance of getting involved to make campus feel smaller, assuages concerns about snow and rattles off details about nightlife downtown. 
"Coming from Atlanta, a lot of the students are used to something happening every night," Whitener said. "I try to explain that it's the same here at Mizzou. It might not be a Real Housewives of Atlanta premiere event, but there is still something going on."
— Kelsey Allen