The Heart of Missouri United Way (HMUW) has moved from output to impact — Community Impact.
Traditionally, National United Way and other nonprofit social organizations measured success by output: counting how many homeless families were sheltered, or how many hungry people were fed. Community Impact, now in its second year at HMUW, uses data analysis and outcome goals to measure a program's success.
And it's working. Collaboration with Columbia groups to improve reading skills of high school students from low-income families, for example, has data showing success.
Community Impact
In a video posted on the MU United Way Campaign Web site, Anne Deaton, wife of Chancellor Brady J. Deaton, said Community Impact appeals to the MU community's results-oriented sensibility. "They want to analyze, they want to know root causes, they want things to be evidenced-based," Deaton said. "This new approach is totally in line with the mentality of our faculty, our staff and our students."
Community Impact is not only about feeding and clothing low-income central Missourians. The model aims to break the poverty cycle by helping children and teenagers of low-income households succeed. The model promotes education that leads to better jobs and a more healthful lifestyle. 
The focus is on four areas:
• education — helping children succeed in school
• income — increasing financial stability and workforce readiness
• health — improving health awareness
• safety net — providing immediate emergency needs
"For Community Impact, we are looking at long-term goals," said HMUW Executive Director Tim Rich. "What are we changing? Can we measure [the steps] that allow a family to step up and rise out of poverty?"
The HMUW campaign kicked off Aug. 30 with a goal of $4 million by Nov. 21, though donations will continue to be taken through Dec. 31. The MU United Way Campaign started Sept. 27 with the goal of $800,000. This year's theme is "Be the One, Live United." MU's donation Web site — unitedway.missouri.edu — will take donations through Nov. 30, though donations via printed forms will be accepted through the end of the year, said Sonya Nistendirk, a spokesperson for the MU campaign. As of Wednesday, $269,420 has been collected. 
Other MU United Way fundraising programs are under way, such as the "Be the One" T-shirts, designed by MU student Andi Fink and sold at the MU United Way Web site and at The Mizzou Store in the Student Center. A portion of T-shirt proceeds goes toward the campaign. In addition, many departments, offices and student groups are collecting nonperishable food donations during the campaign.
Measuring Success
Last year, 26 Boone County and three Cooper County agencies were chosen to receive United Way funding. These agencies presented proposals that included measures that track long-term impact in one or more of the focus areas. Each agency agreed to a years-long commitment, though each must annually hit benchmarks, milestones and performance indicators to continue to receive financing, Rich said.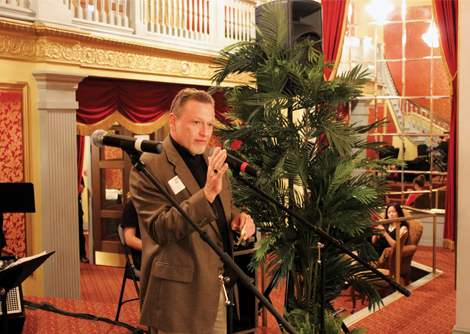 The contracts are three years for income agencies, four years for health agencies and five years for education agencies, Rich said. Longer contracts allow the programs time to effect changes in participants' lives.
"Major change doesn't happen in a year," Rich said.  
Even so, a handful of projects are already showing results. One involves a collaboration of Fun City Youth Academy, a 40-year-old Columbia youth program and certified United Way partner but not UW funded; Columbia Public Schools; and MyOn Reader, an online library for K-12 supported by UW and that has built-in technlogy to measure reader comprehension. 
The test group was African-American teenagers from low-income families attending Fun City during summer 2013. "One of the biggest challenges for low-income [public school] students is summer loss — reading loss and education loss," Rich said. "They don't have the rich [summer education] environment that middle income and upper income kids have."
The students attended a special eight-week session at Fun City taught by certified public school teachers. MyOn Reader was used extensively. Results were dramatic.
"We had 30 percent better retention of learning from when the school year ended," Rich said. "This gives us some hard data in which to work."
Aaron M. Thompson, assistant professor in MU's School of Social Work, is impressed with HMUW's evidence-based approach to program funding.
"I think the folks at United Way are on the cutting edge of social science," he said. "They want to make sure that the kinds of investments they are making are having an impact."
To donate to the campaign, visit unitedway.missouri.edu.