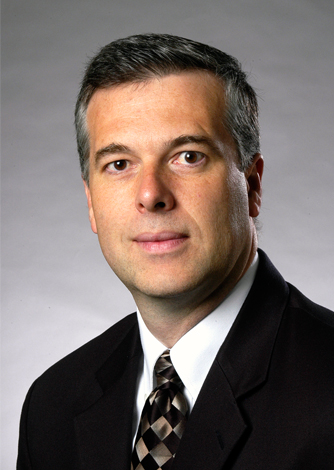 Photo courtesy of Steve Wyatt.
MU officials have a healthy opinion of the quality of the research, innovation and economic development the university generates. 
But it's still nice to hear someone else say it. 
In October, the Association of Public and Land-grant Universities (APLU) named MU to its inaugural list of the country's Innovation and Economic Prosperity Universities. Only 16 universities received the designation.
"We're all a little biased," said Steve Wyatt, vice provost for economic development. "We know we do great work, but it is great to be recognized by your peers."
More than just a pat on the back, however, the recognition raises MU's stature and helps its researchers and faculty do their jobs, Wyatt said. He also pointed to MU's membership in the  Association of American Universities and the Carnegie Foundation for the Advancement of Teaching's 2009 classification of MU as a Community Engagement Campus, meaning that its teaching, learning and scholarship engages faculty, students and the community. 
"As you build on those recognitions, they build the stature of the university," Wyatt said. "Collaborators and funding agencies look at these designations, and it builds credibility about your abilities."
Wyatt said the APLU review process required a rigorous self-evaluation to identify strengths and weaknesses. 
In its application, MU cited areas of success — licensing products to companies, as in the production method of Beyond Meat's Chicken-free Strips; developing homegrown companies through faculty collaboration, such as the biotech firm EternoGen; and focused collaboration on strength areas through Mizzou Advantage. 
MU also identified areas to improve, such as streamlining engagement with startup companies, and increasing outreach and collaboration with industries where MU has expertise. 
An accomplishment in collaboration came Nov. 6 with a letter of intent between the MU Research Reactor team and Global PET Imaging LLC to produce rubidium-82 (Rb-82). The radiopharmaceutical is used after a heart attack to assess whether tissue has been damaged and if there is sufficient blood flow. Healthy tissue with poor blood flow suggests that the patient would benefit from bypass surgery.
Rb-82 is a radioactive "tracer" injected into the bloodstream and absorbed by healthy heart tissue. It acts somewhat like an inside-out X-ray. Healthy heart tissue with good blood flow absorbs Rb-82, which emits Gamma rays that are detected and recorded with positron emission tomography, or PET. While those areas show brightly on a PET scan, damaged heart tissue, which cannot absorb the tracer, appears as a dark void. Scans show a heart with poor blood flow in the same way.
PET scans using Rb-82 produce a clearer image at a lower radiation dose than other radioactive imaging, said Ed Martin, co-founder and executive chair of Global PET Imaging. It's also cheaper than cardiac catheterization — running a thin tube from an arm, neck or thigh vein into the heart — and noninvasive.
 PET imaging agents have long been used in cancer diagnosis but are still relatively minor players in cardiac care, where Martin sees tremendous growth potential.
"We have an opportunity to transform an entire field in a way where better technology at a better price point translates into massively improved quality of life for a lot of people," he said. "It's a really big deal."
Although MU and Global PET have signed a letter of intent, they still must work out a formal agreement; build and equip an off-site production facility; hire additional radiochemists, engineers, and health and safety workers; and secure various regulatory approvals. 
Martin isn't worried. "MURR is the finest research reactor of its kind in the United States or probably the world," he said. "It's an outstanding facility with outstanding people running it." 
Rb-82 is the natural product of the radioactive decay of strontium-82 (Sr-82). MURR will produce Sr-82 using a high-powered cyclotron, or particle accelerator. The cyclotron will be housed in a new facility, likely located at Discovery Ridge, MU's research park, said Ken Brooks, associate director of MURR. The Sr-82 will then be packaged into portable "generators," which will be shipped to hospitals, Brooks said. By running injections of saline through the generator, hospitals can harvest Rb-82 as needed for PET scans. 
Martin hopes to start supplying the health care market by the end of 2016. If the market grows as Martin expects, he wants to add another cyclotron at Discovery Ridge. 
That fits well with Wyatt's goal of continuing to build a cluster of companies and product lines around medical isotopes. 
— Erik Potter