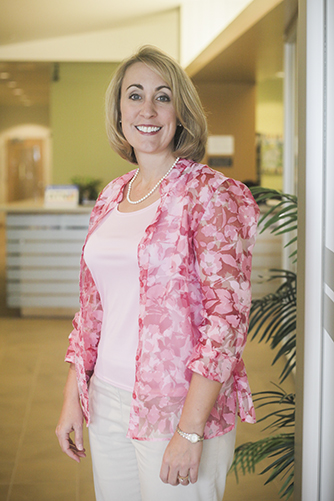 Photo by Nicholas Benner.
Thirteen years ago, 1 in 150 children were identified with autism spectrum disorder. Today, it's about one in 88 children, according to estimates from the Centers for Disease Control and Prevention's Autism and Developmental Disabilities Monitoring Network. 
With more children being diagnosed, research into effective treatment methods is increasing. However, the field has lacked a scientifically sound measure to track short-term improvements in children with autism. 
"The onus was on us to develop the measure," said Micah Mazurek, assistant professor of health psychology at the MU School of Health Professions and a clinical child psychologist at MU's Thompson Center for Autism and Neurodevelopmental Disorders. This semester, Mazurek  was awarded a $3.8 million three-year National Institutes of Health grant to research a new autism measurement tool. 
Mazurek co-developed the Autism Impact Measure (AIM) with Stephen Kanne, executive director of the Thompson Center, and they are continuing to work together to refine the tool. 
The AIM chronicles core symptoms of autism, such as social problems, communication problems and repetitive behaviors. Parents rate their children's symptoms by completing a 41-item questionnaire. The measure was designed to track symptom improvements over the course of treatment and can be completed every few weeks. 
The measurement captures two separate but related aspects of core symptoms: frequency and impact. For each symptom, parents are asked to report how often the symptom occurs as well as how much the symptom interferes with their child's everyday functioning, each on a five-point scale.
"The impact scale is one way to guide treatment decision-making," Mazurek said. "Even if a symptom is occurring really often, if it doesn't have an impact on that child's functioning, it might not be something you want to target for an intervention right away. You can prioritize things differently based on that."
With this grant funding, Mazurek and her collaborators will be able to fine-tune the measure and make sure that it is sensitive to short-term changes in autism symptoms, which is essential in determining whether a treatment is effective. They will examine the AIM's ability to track change across four treatment groups: early intensive behavioral intervention, social competence intervention, parent training intervention and medication treatment.
 "The tool is efficient and easy to use, and our goal has been to develop and test it in a scientifically rigorous way," Mazurek said. "Our hope is that the AIM will fill an important need for both researchers and clinicians." 
— Kelsey Allen