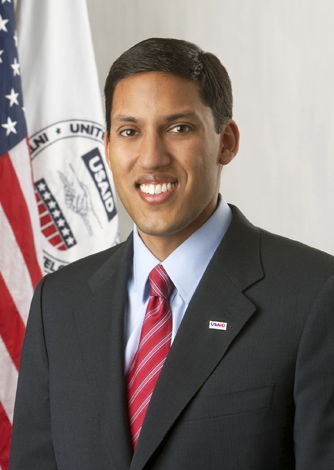 Rajiv Shah leads USAID, currently involved in 87 aid missions globally.
Courtesy of USAID
Rajiv Shah, administrator of the United States Agency for International Development  (USAID), will speak at the Christopher S. "Kit" Bond Lecture Series 10:30 a.m.–1 p.m. Nov. 14 in Monsanto Auditorium. 
Shah earned a medical degree from the University of Pennsylvania Medical School and his master's in health economics from the Wharton School of Business.
He was a health care policy adviser for the 2000 Al Gore presidential campaign and spent several years with the Bill & Melinda Gates Foundation, where for a time he was director of Agricultural Development, helping developing countries move toward food security.
Prior to his U.S. agency appointment, Shah was with the U.S. Department of Agriculture, where he led the department's work connected to President Barack Obama's Global Hunger and Food Security Initiative. (Obama appointed Chancellor Brady J. Deaton chair of the Board for International Food and Agricultural Development in April 2011.)
The USAID is currently involved in 87 aid missions around the world, according to usaid.gov. Shah was sworn in as head Dec. 31, 2009.  Days later, an earthquake struck Haiti, and Shah suddenly found himself coordinating U.S. relief for the devastated country. In summer 2010, Shah was handling aid to Pakistan after flooding displaced 1 million people and killed 1,100.
Shah pinpoints his desire to help others to a childhood experience in India. "I clearly remember my uncle insisting on showing my sister and me the full reality of that multifaceted country," Shah said during his confirmation testimony to the U.S. Senate Foreign Relations Committee. "Not just the historic landmarks and vibrant urban communities, but also the vast slums that are home to millions and continue to be. 
"This early experience opened my eyes to a type of human suffering I had not previously witnessed and have not since forgotten," Shah said.
Last Wednesday, Shah announced at George Washington University the establishing of labs at various American universities where researchers explore ways to end global hunger and poverty. Shah is also spearheading USAID Forward, a set of reforms to the agency's business model that includes procurement, science and technology, and monitoring and evaluation.
To attend the free lecture series organized by the Harry S Truman School of Public Affairs, RSVP to trumanevents@missouri.edu.