When Hao Li walked into the Missouri Small Business & Technology Development Centers in 2005, he had a specific goal in mind. Li, an associate professor of mechanical and aerospace engineering at MU's College of Engineering, wanted to take the fruits of his lab research to the marketplace. 
Working closely with Jim Gann, technology business specialist at the center, Li in 2007 incorporated Nanova, a research firm of orthopedic and dental devices. In early 2013, Nanova secured a $7 million investment from the Chinese venture capital firm SummitView Capital. 
Li's achievement of launching a company is happening at MU more often, Gann said. Recently MU faculty have been involved in launching the companies Beyond Meat and Nanocine. 
"We'll be seeing more and more of this, which is consistent with the university's strategies in economic development and commercialization of its own technology," Gann said. 
The Big Picture
In 1996, Hao Li was a graduate student working on dental implants at one of the top engineering schools in China. He earned his doctorate at Stevens Institute of Technology in New Jersey and pursued post-doctoral studies at Brown University in Rhode Island, where his research focused on synthesis, characterization and application of aerospace composites and nanomaterials.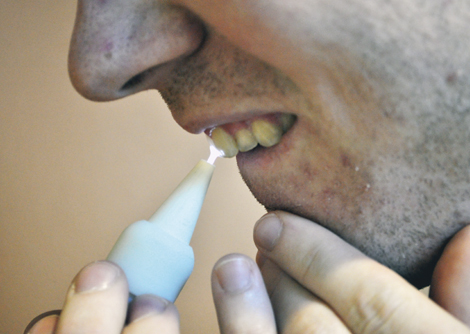 But from a young age, Li knew he wanted to run his own company. While at Stevens and Brown, he took management and business courses. 
"The driving force is not only about business," Li said. "I want to see my research make an impact on society and help people."
Li joined the MU faculty in 2005 and started connecting with people who had similar goals: Qingsong Yu, associate professor of mechanical engineering; Meng Chen, an electrical engineer; and Kenneth Lambert, an orthopedist. 
Working together to research and design groundbreaking dental, cardiovascular and orthopedic devices using nanotechnology and plasma technology, the team received funding from National Institutes of Health, the National Science Foundation and MU. 
With the help of numerous grants, the team was ready to commercialize the medical devices created in the lab. Li reached out to Jim Gann for help. Gann, a management consultant for faculty entrepreneurs, vividly recalled his first conversations with Li.
"He would come in with complex questions about the strategy of business formation that most startups would not be so mature to ask," Gann said. "There was strategy behind his choices that is pretty esoteric in the business world that you wouldn't expect a nanotechnologist to understand, not even an MBA student."
Gann described his consulting as less transaction and more strategic. Li and Gann collaborated on analyzing the marketplace, writing a business plan and developing investor relationships. Nanova was incorporated six years ago.
Promising Future
With the ultimate goal of building better medical devices while also helping researchers commercialize those devices, Li knew he was going to need an economic investment and a strategic partnership. 
"We have quality research, we have good prototypes, we understand the marketing need and we have good credibility," Li said. 
After presenting Nanova's work to several venture capital companies, and receiving several offers, Nanova secured a $7 million investment from SummitView Capital in Changzhou, China. Changzhou is home to about 200 medical device companies, two of which were recently acquired for $700 million each. 
"They're not as strong in research and development. We're strong in research and development but don't necessarily understand the market," Li said. "There are a lot of opportunities. The city is very interested in making a connection with MU and Columbia. I want to be the bridge." 
Along with the investment came a memorandum on understanding among the city of Columbia, MU and Changzhou, which Li said signifies the possible partnerships in terms of research, trade and economic development.
As Nanova grows, moving forward with orthopedic and dental devices being cleared by the Food and Drug Administration, Li will continue to seek funding for other projects. The current project funded by the venture capital firm is based on nanofiber reinforced composite technology. Nanofibers are composed of calcium phosphate, the same material as bone and tooth minerals, and are 1,000 times smaller than a human hair. They are also stronger than stainless steel, Li said. 
Nanova is also working on other innovations, including coronary stents to fight restenosis and thrombosis and a plasma brush, a dental instrument that in less than 30 seconds can disinfect and clean cavity holes before fillings are placed. The cleaning could decrease dental care costs by helping fillings last longer. 
The global medical device market is estimated to reach $440 billion by 2018, growing at about 4.4 percent per year; the annual growth rate of China's medical device industry is forecast to be more than 20 percent in the coming five to 10 years. 
"Based on those numbers, you can imagine there are significant opportunities," Li said. 
— Kelsey Allen