Missouri has long been known as the Show-Me State. More recently, it has been recognized for its geology and nicknamed the Cave State. Someday it might be known as the Grape State.
In the mid 1800s German immigrants established some of the first wineries around Hermann. Today, more than 120 wineries across the state could classify Missouri as one of the country's elite wine producers. And for almost as long as there have been vineyards, the MU College of Agriculture, Food and Natural Resources (CAFNR) has been part of Missouri vino. 
From the state's first entomologist C.V. Riley, an MU professor who helped save the French wine industry, to the work from the MU Grape and Wine Institute, CAFNR is leading the way for research and growth of the Missouri wine industry.
"While wine grape production is well-established in Missouri, the production of seedless pop-in-your-mouth table grapes is just beginning," says Andrew Thomas, horticulturist at the Southwest Research Center in Mt. Vernon. "Very few people are growing table grapes in the state; therefore, a huge untapped market is available for producers."
At the center in 2008, Thomas established a two-acre vineyard  for research on wine-grape varieties and rootstocks. Within the large vineyard, a row of tables was also planted, and a second table grape harvest was recently completed. A similar study is also taking place at the Horticulture and Agroforestry Research Center in New Franklin.
"We planted several table grape varieties including Mars, a seedless Arkansas variety that is the standard grown in some parts of the Midwest," Thomas said. "The rest are experimental selections from Cornell University. We planted yellow, purple and pink grapes and are evaluating their performance under southwest Missouri conditions."
Some of the grapes are similar to the popular Concords, which often are found in juices and jams. Others have a very different, even sweeter taste with a "muscat" and smoky finish.
"We also get to taste-test the grapes," Thomas said. "They taste just spectacular and I would take these grapes over any you can buy in stores."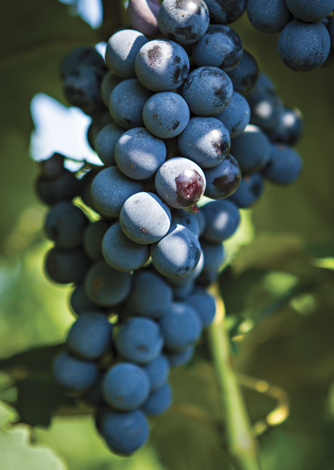 The costs to implement rows of table grapes are similar to that of wine grapes. They require the same trellising and irrigation systems and could be a great addition to vineyards. A bonus to growing table grapes is that they can be harvested two to three weeks ahead of many other grapes, thus creating an added flow of income.
One of the main goals of the research is to find out which varieties work best in Missouri for growers such as Mike Rippelmeyer, who owns 4M Vineyards & Farms in St. James.
"We have close to an acre of Mars and other Arkansas varieties that are producing about seven tons an acre a year," Rippelmeyer said. "We are looking to expand into other varieties to gear ourselves for the future of the industry."
Since 1909, 4M Vineyards has been growing grapes and now boasts 19 acres of more than a dozen different varieties. Concord has historically been the top seller for the vineyard near St. James. But as times change, so has the market.
"We are seeing less people buying Concords and looking to try the new varieties," Rippelmeyer said. "These new varieties could really get people into something different."
For many growers like Rippelmeyer, the key to table grapes is finding a market. Some varieties have a short shelf life and need to be refrigerated after picking. That means it's crucial to find buyers before planting. Once refrigerated, however, most table grapes can be kept in good condition for up to three weeks in cold storage to help increase potential sales opportunities.
Once a producer brings high-quality, locally grown table grapes to any market, they would sell quickly if free samples are provided, Rippelmeyer said. 
Compared to most grapes sold in grocery stores, the varieties being studied at the Southwest Research Center are a much higher quality. 
Thomas suggested that winery owners stock the table grapes for resale, and retailers sell them at farmers markets.
Rippelmeyer said that the "locavore" trend is booming right now and any locally grown products would do well for farmers across Missouri.
"Virtually none of the grapes you buy in stores are from Missouri," Rippelmeyer said. "Why can't we get more Missouri-made products to our consumers? I really hope that in the future the market for these grapes expands. It's always great to support the local folks."
 — Kyle Spradley