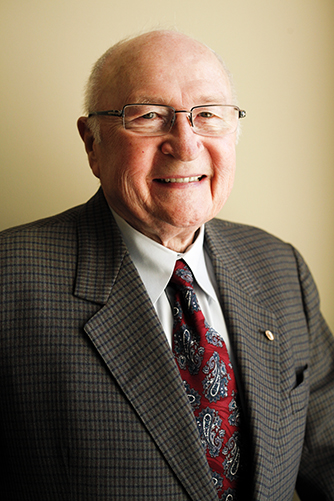 Zbylut Twardowski will always remember September 1939 as the month World War II came to his family's home in Szopienice, Poland, the month his entire life changed and the month he said goodbye to his father. 
Monumental events, to be sure, that Twardowski details in his autobiography, Around the World with Nephrology, published by World Scientific Publishing and available at Amazon, University Bookstore and directly from the author.
The 9-year-old boy was awakened at 2 a.m. by the Gestapo pounding on the door of his family's home and shouting in German, "Open the door!" 
"I only remember I was frightened and standing," Twardowski said. His father got dressed and left with the officers, but not before saying goodbye. "We didn't kiss him, and he didn't kiss us," said Twardowski, an MU professor emeritus of clinical medicine who works part time at University Hospital and Clinics. 
Following the German invasion of Poland, the country fell under Nazi control, and educated professionals such as Twardowski's father, Józef, were rounded up to be executed or imprisoned in concentration camps.
The day after Jósef was taken, Twardowski's mother, Maria, negotiated for her husband's release. Twardowski assumes his mother bribed German officials to have his father transferred to Gross Rosen and other concentration camps, where he was held until war's end.
In addition to recounting his father's abduction in the book, Twardowski chronicles his becoming an expert in modern nephrology, a holder of more than 20 medical patents and his world travels.
From Poland to Mizzou
It seemed a natural choice for Twardowski to study medicine. His father was a medical doctor in his childhood village in Poland. A career in medicine would allow Twardowski to combine his passion for math and science and for helping people.
Mere chance led him to his medical specialty. Essentially, he was offered a position too good to pass up. At the age of 29, Twardowski held a full-time job in a new hospital unit. The only snag was he had to teach himself nephrology, the study of kidneys. 
"Nephrology did not exist as a branch of medicine in Poland at that time," Twardowski wrote in his autobiography. "There were other subspecialties of internal medicine, but in Kraków, lectures in diseases of the kidney were only rarely given."
The ever-motivated Twardowski taught himself nephrology by reading academic papers. He soon excelled in the field. His various medical positions in Poland hospitals culminated with a fellowship offer from University Hospital and Clinics. And so it was off to the Midwest. 
After landing in St. Louis in 1976 and taking the Greyhound to Columbia, Twardowski realized he lacked sufficient English. Although he studied the language for years, he felt lost in a fog of foreign signs and words. To force himself to learn English, he resolved not to speak Polish for a year. He bought an American Heritage Dictionary and studied. 
Twardowski was at MU for only a year when he returned to Poland for another medical position. Ultimately, however, Poland's communism and martial law lead to his accepting MU's full-time faculty offer in 1983. 
But he still needed a green card, which could take years to attain. Karl Nolph, Curators Professor emeritus of internal medicine at the School of Medicine, knew what to do. "Somewhere I read that if [the National Institutes of Health] declared [Twardowski] a nationally renowned scientist, his green card could be expedited," Nolph said. 
Nolph mailed boxes of Twardowski's credentials to the institute. After interviewing Twardowski, the institute declared him an internationally renowned scientist. 
These days, Twardowski is known around the world by internal medicine doctors for his innovative work in nephrology. 
Papers and patents 
In Twardowski's office in University Hospital hang 11 plaques designating patents he's attained in nephrology. He holds 23 patents altogether. He has also published 390 scientific papers and delivered 532 scientific presentations.
"He has advanced the field of dialysis as much or more than anyone in history," Nolph said. 
Twardowski doesn't let his successes go to his head. He compared obtaining a patent to having an academic paper accepted by an academic journal. He isn't satisfied until the product is licensed, manufactured and available in hospitals.
"If you work as a doctor, you can help a few people," Twardowski said. "But if you invent something, you can help hundreds of people at the same time. If my invention is helping hundreds of people, I feel good about that."
Twardowski's first name in Polish means "to get rid of anger." It suits him well. He presents an amiable demeanor and likes to make jokes.
"When I even say a few words, people ask me, 'Where are you from?'" Twardowski said of his Polish accent. "I say, 'Missourah,' and they say, 'No, where are you from, really?' " 
He enjoys the Russian comic Yakov Smirnoff, whom he has seen twice at shows in Branson, Mo. A picture of Smirnoff and Twardowski in Branson is included among scores of photos in the book. 
From Mizzou to Poland
Twardowski has lived a book's worth of a life, and, at the age of 78, there's more he plans to do. He wants to revisit advanced mathematics and physics and plans to move to Poland in two years. 
When he thinks back to his start in medicine as a Polish ambulance physician, he remembers his weekends, but not for the parties and grand times of his younger days. He remembers how he worked 48-hour shifts. "Gosh, I was so strong," he said. 
Twardowski thinks a moment and adds, "I still am strong."
His hardcover book, which is 715 pages, is available for $75 by emailing twardowskiz@health.missouri.edu. 
— Ashley Carman