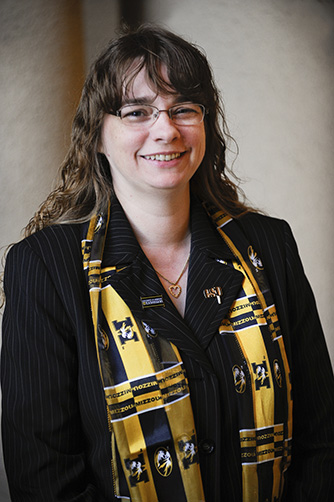 Rhonda Gibler, associate vice provost for MU Extension Management, will begin as MU budget director Jan.1, replacing Tim Rooney, who is retiring.
As chief budget officer, Gibler will be responsible for overall planning of MU's budget. She will work across departments, colleges and schools, and coordinate with University of Missouri System administration to further the goals of appropriate budget management and fiscal responsibility. 
Gibler will advise Chancellor Brady J. Deaton and Provost Brian Foster on resource allocations and provide assistance in long-term planning, resource allocations, and campus budget conditions and trends. 
"Mizzou is an amazing place to work, and it's great to follow someone like Tim Rooney, who has done an admirable job with our budget through some very difficult years," Gibler said Wednesday at the announcement. 
In her current position, Gibler has been responsible for MU Extension's overall administrative, financial, communications, computing and human resource functions. 
Recently, Gibler led a committee that reviewed revenue generation policy and created a three-year plan to investigate fee generation as a way to augment the extension budget. Previously, she served as MU Extension assistant vice provost and director of administrative management.
"We are very fortunate that she possesses not only the budgetary and management skills, but that she also brings vast institutional knowledge that is invaluable for this position," Deaton said. "We're looking forward to working with her in this new capacity."
Gibler received her bachelor's in mathematics and economics from Truman State University in May 1991. She received her master's in economics and doctorate in human environmental sciences from MU in 1995 and 2006, respectively.