Art has the power to promote learning, draw people together and help them appreciate one another's similarities and differences.
Organizers hope to achieve all three at the Museum of Art and Archaeology's new exhibition, Black Women in Art and the Stories They Tell, on display through April 29 in 106 Pickard Hall.
The exhibit, a poignant one given that February is Black History Month, contains more than 17 paintings, prints, drawings, sculptures and watercolors.
"I wanted to emphasize the diversity of it all in the different forms of art," said Mary Pixley, associate curator of European and American art. "Aside from the stories, the thing that holds the exhibit together is the fact that the works of art are either by black women artists or about black women."
Most of the stories begin after the Harlem Renaissance during the 1920s and 1930s. Some stories are told with a realistic representation of a figure and others are more abstract.
 Pixley said that some of the most dramatic images are by Elizabeth Catlett, a granddaughter of a slave who told stories about African-American women struggling for equality with dignity.
Aimee Schweig's painting titled Tillie depicts a black woman who probably saw the race riots in 1930 in Ste. Genevieve, Mo., Pixley said. "The artwork portrays a woman who has lived through it, seen it and who has not lived an easy life. People identify with her."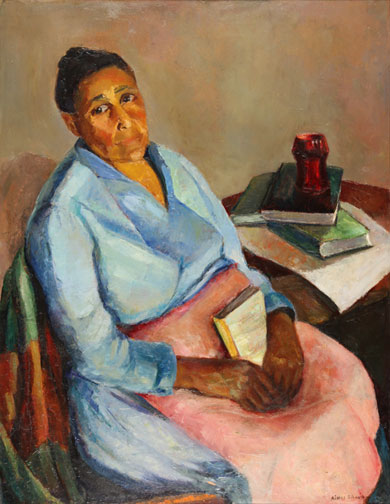 Aside from making people fall in love with art and all its creative possibilities, Pixley said she wants the exhibit to take people on an intellectual voyage.
"I believe in the healing power of art, and believe that art can help us understand the world better and help us to grow as individuals," she said.
"This exhibit allows the visitor to learn about the importance of storytelling in the black culture and to see how this informs art by and about black women. It also revisits the issues of slavery and civil rights, from which we have not healed as a nation.
"Hopefully, by reconsidering and coming to truly understand the past and each other," Pixley said, "we may continue to heal and move forward to create a better world."