Several campus events commemorated Veterans Day 2011, including a parade, the rededication of the American War Mothers' Memorial, a wreath laying ceremony under Memorial Tower and the unveiling of the U.S. Postal Service's new Purple Heart forever stamp.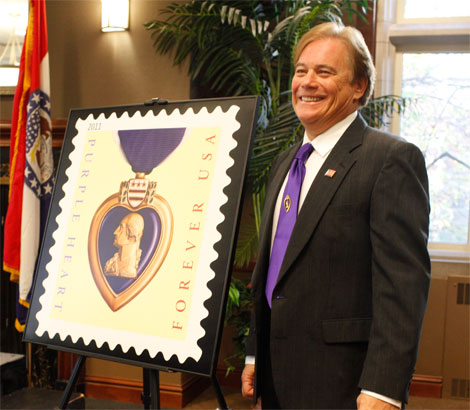 Faculty member and Purple Heart Medal recipient Alex Waigandt spoke at the stamp ceremony Nov. 11 in Memorial Union's Stotler Lounge. Waigandt, associate professor in the College of Education, served in the Marines during the Vietnam War and was awarded three Purple Hearts during his tour of duty.
The Purple Heart Medal dates back to Revolutionary War, when then-Gen. George Washington created the Badge of Military Merit for three sergeants who helped capture accomplices to the infamous traitor, Benedict Arnold.
"Since those dark and uncertain days of the infancy of our nation, there have been 1,910,162 medals awarded," Waigandt said. "There will be more. There will always be those lurking in the shadows who will assume to take our rights. There will also be those who will also give everything to preserve them."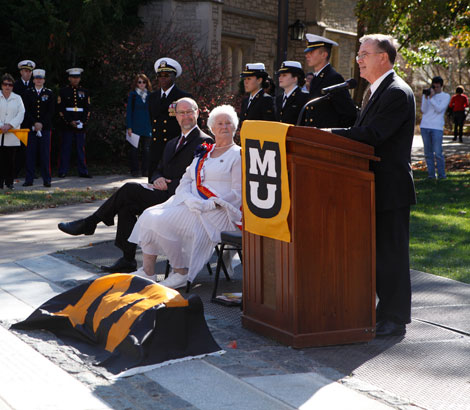 The Badge of Military Merit was not awarded again until 1932, when it was redesigned from a heart-shaped piece of purple cloth to the Purple Heart Medal of today. The first recipient was Gen. Douglas McArthur, and World War I veterans received the award retroactively.
In 1942, President Franklin D. Roosevelt declared the medal would be issued to all branches of military service not on recommendation but for wounds or death in service.
Waigandt spoke of the men and women he knew who died defending the U.S.
"Sometimes, late at night, when the world is at rest, I can see the faces of some of my friends … friends forever young, never having had the opportunity to grow old," Waigandt said. "The Purple Heart is symbol of their dedication, loyalty and sacrifice."
— Trevor Eischen