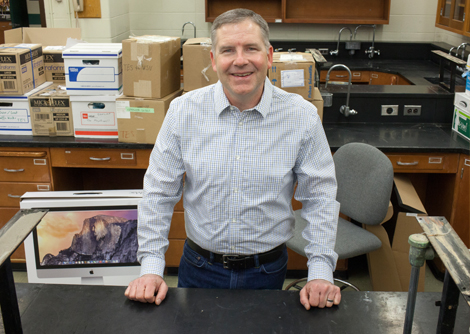 Though his laboratory is still mostly empty except for stacks of unopened boxes, his excitement at being a professor and signature hire at the University of Missouri couldn't be more full.
A few weeks ago, Thomas Spencer arrived at MU after accepting an appointment in the animal sciences with a joint appointment in the School of Medicine's Department of Obstetrics, Gynecology and Women's Health. He was drawn to MU's "critical mass" (his phrase) of talent in animal science and commitment to One Health/One Medicine, which fosters research and knowledge sharing to improve human and animal health.
Spencer is internationally recognized for his research in reproductive and developmental biology. He studies how to increase fertility in beef and dairy cattle, which can help cattle farmers be economically successful and feed a growing world population. In addition, he studies how to translate animal research to human medicine to solve fertility problems in women and improve their reproductive outcomes.
"This is an exciting and relatively under explored area in the health profession," Spencer said March 12 in his office in the Animal Science Research Center.
March 19, 2015 Issue