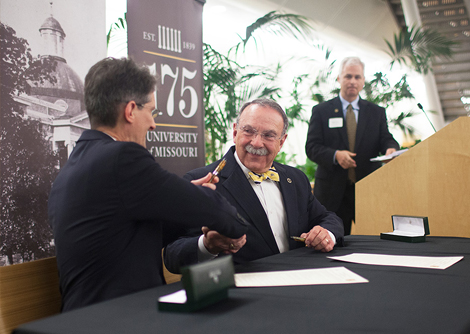 When Kara Riggs, a fifth-year doctoral student in plant sciences and former intern at the not-for-profit Donald Danforth Plant Science Center in St. Louis, heard about the new agreement between the University of Missouri and the Danforth Center, she thought, "Thank you! Finally!"
She knew both institutions do cutting-edge research on drought tolerance, sustainability and how to decrease food insecurity across the globe. Both value their internal collaborative cultures. And although both have been partners since the Danforth Center formed 16 years ago, the practical connections between them have been sporadic. With a new agreement signed Nov. 17 at the Danforth Center, however, they have cemented their partnership in a tangible way.
Under the agreement, signed at a St. Louis Jefferson Club reception at the center, the two institutions will hire four researchers with joint appointments at Danforth and MU. Two will be housed at Danforth and two at MU.
The combination of MU's and Danforth's resources and research expertise will help recruit from other universities quality midcareer or senior-level faculty with established research programs, said James C. Carrington, president of the Danforth Center.
Nov. 20, 2014 Issue