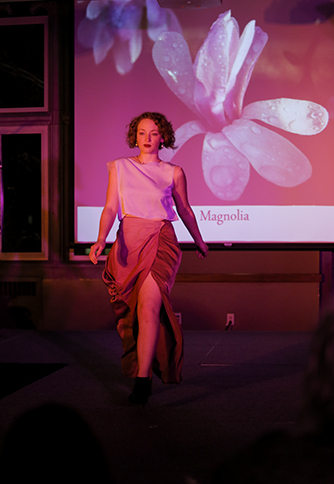 The counterintuitive combination of plants and mystery stories sparks design creativity
Rose is headed down the runway.
"Despite thorns, roses have been man's favorite flower since the beginning of time," Bill Ruppert announces into the microphone. "Roses need at least six hours of sun each day and plenty of water, but nothing is more glorious than a bush in full bloom, as they are especially fragrant."
The model carrying the potted rose in front of her dress pauses at the end of the runway. The crowd admires her outfit and the way its sunny yellow hue complements the rose's pink. She twirls and struts off. 
The rest of the flower fashion models parade out after her and take a bow.
This was the Plant Fashion Show on April 18 in Memorial Union. Eight textile and apparel management students in the College of Human Environmental Studies designed garments using flowers as inspiration for the show, which was attended by about 80. 
To ring in spring, the flower fashion show paired each plant with a television, movie or book series characters to fit the year's theme, "Taking the Mystery Out of Plants." 
The viguiera, or goldeneye, suggested the 1995 James Bond film GoldenEye. Senior Sara Kahrs designed a tight black pinstripe dress to fit any Bond girl.
"Like Mr. Bond, the viguiera sometimes goes undercover for parts of the year, like many plants can," Ruppert announced after the model left the stage.
With each plant and design, Ruppert, an MU landscape coordinator, offered plant knowledge, trivia facts and tips for helping the flowers grow. For instance, tomatoes and potatoes are both considered nightshades, in addition to the purple and yellow flower, and blue anemone provides a nice contrast in gardens bursting with pink, red and purple.