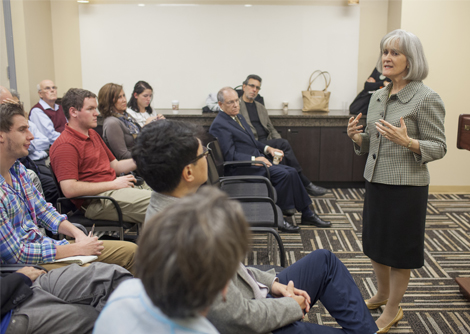 MU provost candidate Michele Wheatly spoke Oct. 23 of her academic career in teaching and research at several colleges, including her administrative experience as a former provost at West Virginia University.
During an open forum in the MU Student Center, Wheatly addressed questions about Association of American Universities (AAU) membership, faculty diversity, liberal arts education and her career as a faculty researcher. She spoke of the fiscal challenges most public universities face as state funding for higher education declines.
And she explained why she's right for the job. "I don't need to learn how to become a provost," Wheatly said.
The executive vice chancellor for academic affairs and provost is MU's chief academic officer with responsibility for academic programs, operations, planning and budgeting. Reporting directly to the chancellor, this person is the chief executive officer in the chancellor's absence. Brian Foster held the title from August 2005 to Dec. 31, 2013. Ken Dean has acted as interim provost since then.
The search firm Isaacson, Miller and MU's 15-member provost search committee, led by Judy Wall, joint Curators Professor of Biochemistry and Molecular Microbiology and Immunology, are collaborating on the search.
From January 2010 to June 2014, Wheatly was provost and vice president for academic affairs at West Virginia University, a public land-grant institution in Morgantown, Virginia. It is the flagship institution of the state. She helped create the university's 2020 strategic plan that was implemented in spring 2011, according to the university's website. West Virginia has about 32,000 students and an annual operating budget of $2.5 billion.
During her time in the position, general revenue of West Virginia University jumped from $847 million to more than $1 billion, and sponsored research from $87 million to $93 million, according to her resume.
Oct. 30, 2014 Issue