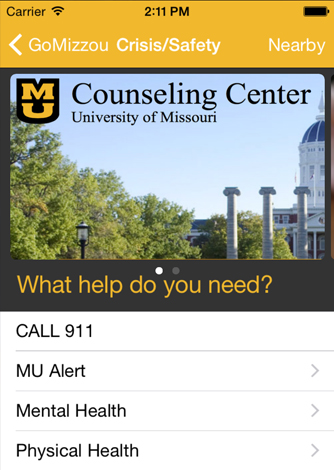 A new module for the GoMizzou app is scheduled to roll out to the MU community Monday. In addition to the app's multiple modules, such as campus directory, news feeds, events calendar and course catalog information, GoMizzou now comes with a Crisis/Safety section.
The module consists of health and emergency assistance options for students and employees. Along with a weather module, Crisis/Safety is accessible from the app's front landing screen.
The Crisis/Safety Module
Its prompts are MU Alert, Call 911, Mental Health, Physical Health, Sexual Assault and Interpersonal Violence, Title IX, Emergency Procedures, MU Property Registration, and Red Cross Apps. Students can call, text or visit websites (when applicable) of services and offices.
The Title IX prompt offers contact information to the Title IX office. Students and employees can call the office, browse Title IX policies online, or share information as a mandated reporter about an alleged sexual assault or misconduct.
MU Alert, which notifies of campus closings, emergencies and weather alerts, is displayed on the app's carousel.
Most of the prompts have their own subcategories. Under Mental Health, for example, is the subcategory Campus Consultation and Crisis Intervention, which offers the (573) 882-6601 phone number of the MU Counseling Center and its after-hours service, as well as the center's website link. Other subcategories are MU Police Department, the Student Health Center and Columbia Police Department.
Information for some of the Crisis/Safety module prompts can be updated immediately, said Eric Evans, emergency management coordinator. Built into it is the ability to update content as needed through GoAdmin's Web interface.
Feb. 26, 2015 Issue