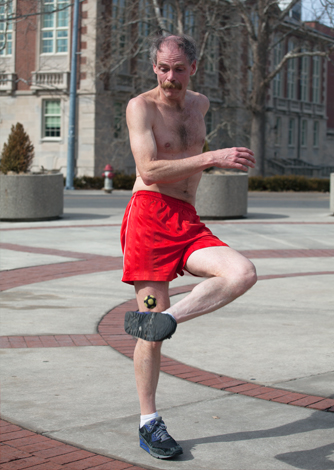 On Feb. 4, the University of Missouri was closed due to a blizzard. Freezing temperatures, snow  squalls and gusting winds kept people indoors.
But not the Hack Man. He was playing Hacky Sack on a snow-swept Speakers Circle.
In one of hundreds of videos he's uploaded to YouTube, the Hack Man, dressed in winter attire, is shown bouncing a footbag off his ankles and thighs as the wind moans and the snow swirls. 

The Hack Man is Derrick Fogle, a 50-year-old manager of technical services at the Academic Support Center. He's been playing Hacky Sack since he was 17 years old. In recent years he's been a fixture at Speakers Circle. Last year he played 81.5 hours freestyle (his calculation) and many more hours in Hacky Sack circles with students.

As perhaps a prelude to spring, a shirtless Fogle in shorts was footbagging last Friday on Speakers Circle for a small but attentive crowd. A couple of students showed up to kick the bag with him during his nearly two-hour session.

One of the students was Lance Doughman, a nontraditional student three semesters from graduation who has been kicking with Fogle since August 2012. 

"Derrick's kicking is amazing," Doughman said. "I've never seen anyone outside of YouTube kick as well as he does. Playing with Derrick every week is like if Michael Jordan wanted to shoot hoops with me in my driveway."