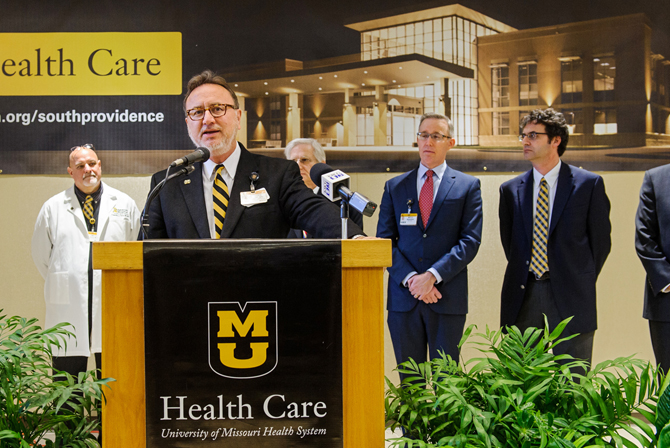 A ribbon-cutting was held Tuesday for the unveiling of MU Health Care's South Providence Medical Park building, the new home for three outpatient clinics, including family medicine, general pediatrics and psychiatry. The medical park building, at 551 E. Southampton Drive in south Columbia, is designed with the needs of patients and their families in mind. About 500 guests attended the opening event.
"We believe excellence in health care happens when medical teams partner with patients and their families," Hal Williamson, executive vice chancellor for health affairs, said at the event.
"From the start of this project, we sought input from patients and families on the design of this building," he continued. "Our goal is to offer comprehensive care for the whole family, from toddlers to adolescents to adults and seniors in one convenient location."
The building features a family medicine clinic with 48 exam rooms staffed by more than 60 physicians from the medical school's Department of Family and Community Medicine, ranked for 21 years in the top 10 of family medicine programs by U.S. News and World Report's Best Graduate Schools. Mizzou Pharmacy offers drive-thru services, a laboratory, radiology and imaging services, and Mizzou Urgent Care, which relocated from University Physicians Medical Building.
Jan. 22, 2015 Issue