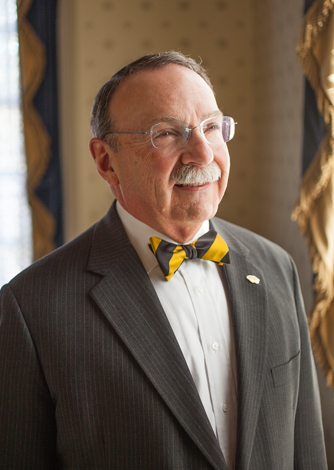 R. Bowen Loftin owns more than 400 bow ties, including black-and-gold variations he's worn to many university events since starting as MU chancellor Feb. 1.
For decades, his favoring a bow tie over a long tie made him visually distinct among his colleagues. But that's just surface stuff. What really distinguished him was his personality and accomplishments. Growing up dirt poor in Texas, Loftin found his passion in math and science, received scholarships, became a tenured physics professor at age 33, did pioneering research that included classified NASA projects, and became president of Texas A&M at College Station in 2010. Through it all, he never forgot the lessons of his upbringing.
Loftin, 64, has the ability to relate to people of different ages and backgrounds. During basketball games in Mizzou Arena, he descends to the bleachers to chat with students. Before the start of a recent Faculty Council meeting, he spoke with each press member attending.
His father, Richard Loftin, had the same personable qualities. "He could connect with anyone in a very short time," Loftin said. "He could find some common element with someone he just met and use that element to build a relationship."
Loftin is also impressing staff and faculty with his higher-education knowledge. Following a meeting with the chancellor, Faculty Council Chair Craig Roberts marveled at Loftin's grasp of campus issues.
"He's already up on so many things," Roberts said. "You start the sentence, and he'll finish the paragraph."
Loftin's first month as chancellor has been high profile. In response to the case involving freshman swimmer Sasha Menu Courey, Loftin on Feb. 14 announced his appointment of Deputy Chancellor Michael Middleton to examine MU's relevant rules and practices involving student mental health issues and sexual assault reporting. He fielded questions during the month from local and national media about Michael Sam, a former Tigers football player and soon to be the first openly gay athlete in an NFL draft. And on Feb. 22, Loftin called for inspections of every building owned or leased by MU in response to the death of Columbia firefighter Lt. Bruce Britt at a university-owned apartment complex.
For Loftin, it's all in a day's work.
Teacher and Researcher 
Richard Bowen Loftin was born June 29, 1949, in Hearne and grew up in Navasota, both pinprick farm communities in eastern Texas. "I grew up riding horses and chasing cows," he said. His father, who only had a sixth-grade education, worked 10-hour days for the Texas Department of Transportation. His mother, Dorothy, was a homemaker. Both parents wanted their only child to be the first Loftin to go to college.
As a teenager, Loftin was a reader and a farmhand who had a vague notion of becoming a college professor. He excelled at Navasota High School and found a mentor in math teacher Milton Schaefer. Given the socioeconomic status of the family, tuition for Loftin's education would have been out of reach if not for scholarships.