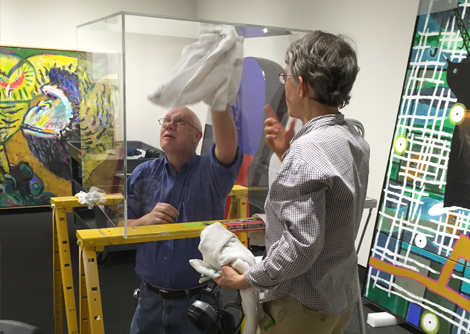 After 18 months of planning, packing, moving, unpacking and gallery organization, the Museum of Art and Archaeology will celebrate its grand opening Sunday at Mizzou North. Improved art storage facilities and spacious galleries have administrators giddy about the museum's possibilities.
"I'm excited to welcome visitors to the new galleries," said Alex Barker, director of the museum. "The public display of art is a key part of our museum mission. For the past year and a half, that has been missing."
Mizzou North, at 115 Business Loop 70 West, is the former site of the Ellis Fischel Cancer Center (which opened a new facility at University Hospital in February 2013). The art and archaeology museum is on the second floor; in coming months, the Museum of Anthropology also will open on the second floor.
For years, the art and archaeology museum was in Pickard Hall and the anthropology museum was in Swallow Hall. But Swallow needed renovation and Pickard required decommissioning. The museums had to find a new home.
On Sept. 30, 2013, the Museum of Art and Archaeology closed and began its relocation to Mizzou North. More than 16,000 artworks and artifacts had to be packed and moved. Mizzou North space had to be renovated to make room for the collections.
April 16, 2015 Issue