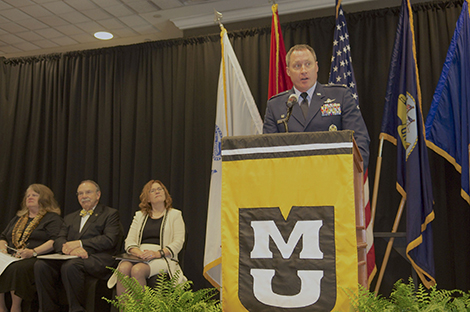 In an effort to make higher education more accessible, University of Missouri administrators announced Wednesday a 10 percent tuition award for all military veterans and personnel, including for their spouses and children.
The award, which is effective immediately, will reduce base tuition and apply toward a maximum of 150 hours of undergraduate credit and/or 75 hours of graduate credits toward a distance degree or certification program through Mizzou Online.
In 2014, about 800 service members and veterans were enrolled at Mizzou, including some 80 distance-learning students.
"We owe so much to those who are serving in our nation's military as well as their families," Chancellor R. Bowen Loftin said at the announcement, attended by about 125 people in Memorial Union, which is dedicated to Americans who have fought in wars since World War I. "We hope this new award will be both an incentive and an aid as they enroll and work toward receiving a degree at Mizzou in their chosen fields."
June 25, 2015 Issue