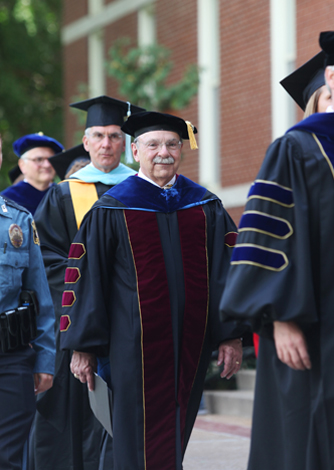 Chancellor R. Bowen Loftin was inaugurated as the 22nd chief executive officer of the University of Missouri in stellar fashion Sept. 18 at Missouri Theatre.
The afternoon installation ceremony included a processional of 324 MU faculty and delegates from colleges and schools across the nation, an aria from an opera performed by two MU students, the premiere of a ceremonial wooden mace created on campus, and Bowen and Karin Loftin waving from a 16-foot-long black show wagon pulled by the mule team Tim and Terry.
The installation was part of a week of events celebrating MU's 175th anniversary. On Monday, Pulitzer Prize-winning author Jon Meacham lectured on Thomas Jefferson and higher education, and throughout the week, symposia on a variety of intellectual topics were held. This evening at 9:30 p.m., the Columns on Francis Quadrangle will be illuminated in a special way.
Yet the defining moment, the one that summed up and underscored the week's aspirations, was Loftin's Thursday installation speech. In full academic regalia, and with the Jefferson Medallion hanging from his neck, Loftin spoke of his being a first-generation college student, his reliance on academic scholarships and his 40 years in higher education at seven institutions. He praised the rise in scholarship offerings and first-generation students at MU, but also challenged the campus community to think about a long-term vision commensurate with the greatness he sees at the institution.
"I am perfectly confident that Mizzou will become in 25 years and beyond the standard" to be emulated, Loftin said. "We will be the one that institutions seek to be like."
Sept. 18, 2014 Issue