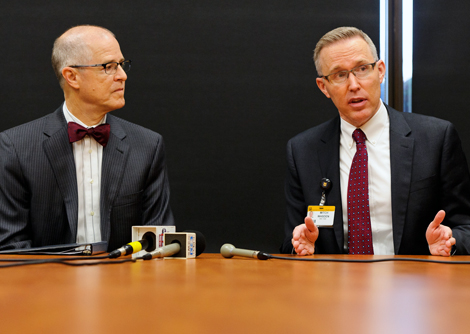 Collaboration of service-oriented professions can mean cost savings and better service for clients. This year, the University of Missouri Health System has been at the forefront of collaboration in central Missouri health care.
Over the summer, health officials announced the creation of the Health Network of Missouri, a collaborative among six Missouri health systems that includes MU Health Care. The network allows for sharing business, clinical and operational practices and creating more effective ways to coordinate health care.
On Monday, affiliation between MU Health Care and Columbia Surgical Associates (CSA) was announced to expand care access for patients in central Missouri. This affiliation, which goes into effect Jan. 1, 2015, is different from those in the Health Network of Missouri because it establishes a corporation between MU and the CSA, even as both maintain their individual identity.
Even so, the MU-CSA partnership and the Health Network of Missouri share the same goal. "Both are focused on a collaborative approach to tracking and improving patient care," said Carrie Gartner, director of communications and public relations at the UM Health System.
CSA is comprised of 10 surgeons specializing in general, bariatric, vascular, colorectal and breast cancer surgery and 35 other health professionals, support and administrative staff. The new affiliation means surgeons will have privileges at University Hospital, MU Women's and Children's Hospital and other MU Health Care facilities.
CSA physicians are covered after deductible in the Custom Network Plan, a UM System 2015 health benefits option for benefit-eligible employees living or working in greater Columbia. However, if a CSA physician performs surgery in an out-of-network hospital, only the surgeon's fees are covered by the plan, said Kellie Holland, UM System manager of communications and education. 
Oct. 16, 2014 Issue