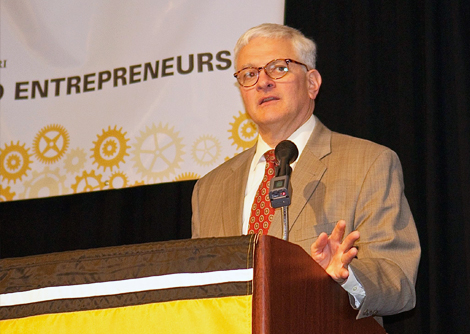 A celebration of the University of Missouri's achievements in business creation, invention and economic development was held April 30 in Reynolds Alumni Center.
In fiscal 2014, 25 U.S. patents were issued to MU faculty who designed novel devices, developed innovative methods or created something wholly unique.  Also, 38 inventors licensed 18 technologies, of which six became startup companies.
More than 100 faculty received awards for their work at the 2015 Innovation & Entrepreneurial Recognition event. The speakers were Hank Foley, senior vice chancellor for research and graduate studies at MU and executive vice president for academic affairs, research and economic development for the University of Missouri System; Provost Garnett Stokes; and Steve Wyatt, associate vice chancellor and vice provost for economic development.
Stokes said MU was focused on building strategic collaborations with businesses to grow research and service contracts. "MU has made great strides over the last 10 years," Stokes said. "But tonight, as we celebrate the accomplishments of 2014 [innovation], we are looking forward to the future with anticipation of even greater accomplishments."
May 7, 2015 Issue